STRATEGY
Retail Disruption
Online Retail Continues to Offer Opportunity
Key Observations:
The E-Commerce Growth Trend Remains Intact - and Early
The E-commerce-from-birth advantage.
A brick-and-mortar rally gone too far?
The E-Commerce Growth Trend Remains Intact—and Early
It's not surprising that e-commerce's share of retail sales has pulled back since the height of the pandemic lockdown. What may be surprising is how low that penetration was—and still is. The growth runway for e-commerce is much longer than many may imagine. Importantly, the retreat from the pandemic highs of penetration has simply returned e-commerce's growth back to its robust trend line.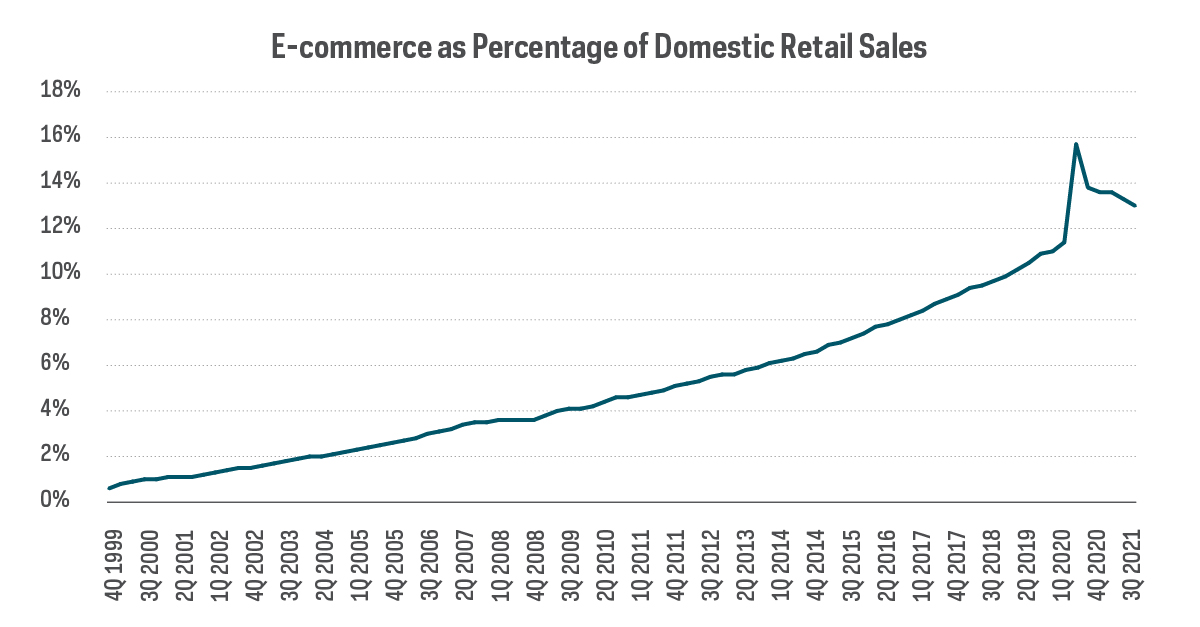 Source: U.S. Department of Commerce, November 2021
The E-commerce from birth advantage
New technology disrupts industries entire value chains – from manufacturing, to supply chain, to customer fulfillment, and more. But sometimes those benefits go to the incumbent players and sometimes they go to new entrants. Consider an industry where huge investments in physical "stuff"—say, manufacturing facilities—have their workflow turned upside down by technological innovation that still requires those manufacturing facilities. Incumbents will benefit and new entrants will still find significant barriers to entry. One might for a moment consider that the retail industry might look like that, and ultimately it may. Local physical locations may become a clever mix of in-store shopping and last-mile fulfillment infrastructure. The evidence so far suggests that retail is far away from such a new equilibrium, and it is the new entrants—e-commerce-from-birth—that are indeed disrupting legacy bricks-and-mortar companies. The evidence: Over the last several years, online retailers have more than doubled their profit margins while bricks-and-mortar retailers have achieved no such success.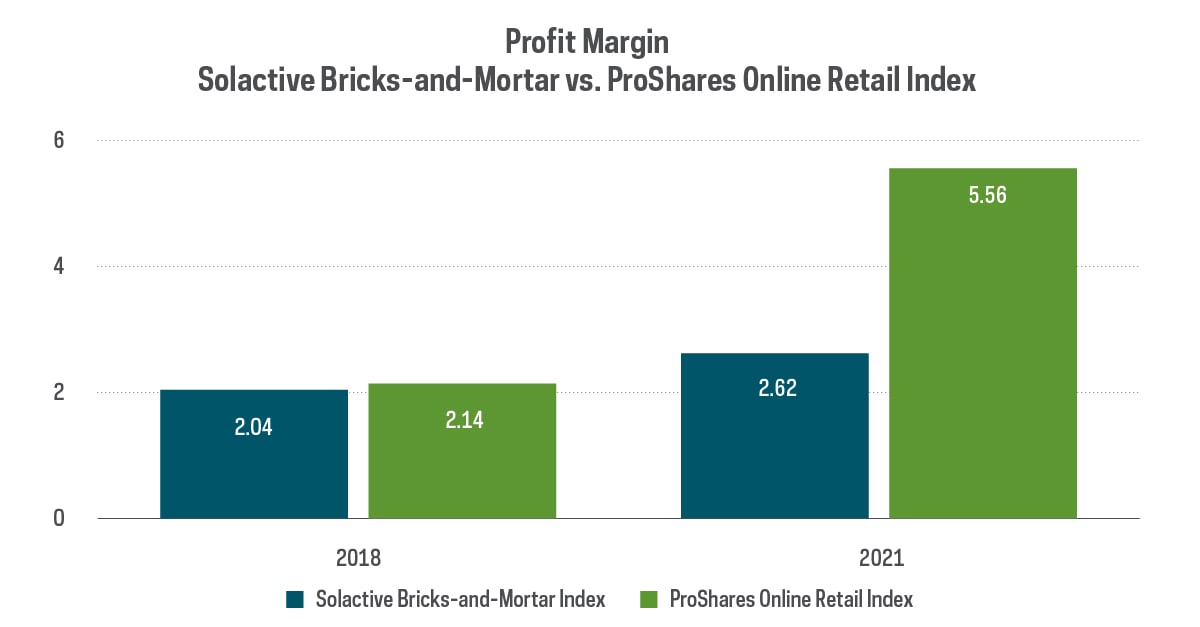 Source: Bloomberg, December 2021
A Bricks-and-Mortar Rally Gone Too Far?
Borrowing from the famous quote, reports of the death of bricks-and-mortar retail were greatly exaggerated. But it was never in the cards for bricks-and-mortar retail to disappear. Once you are clued into today's modest penetration of online retail, an ultimate end state of, say, 50% online and 50% in store seems a good a guess as any. However, that still suggests a long period of pain and retrenchment for bricks-and-mortar retailers, and a long period of strength for born-e-commerce retailers. Prior to the pandemic, this disruption seemed to be priced accordingly, as bricks-and-mortar retailers were trading at roughly 40% of price-to-book value of e-commerce retailers. After last year's bricks-and-mortar rally, that percentage has risen to nearly 85%, according to Bloomberg. Bricks-and-mortar valuations nearing parity with e-commerce valuations just may indicate a relief rally gone too far.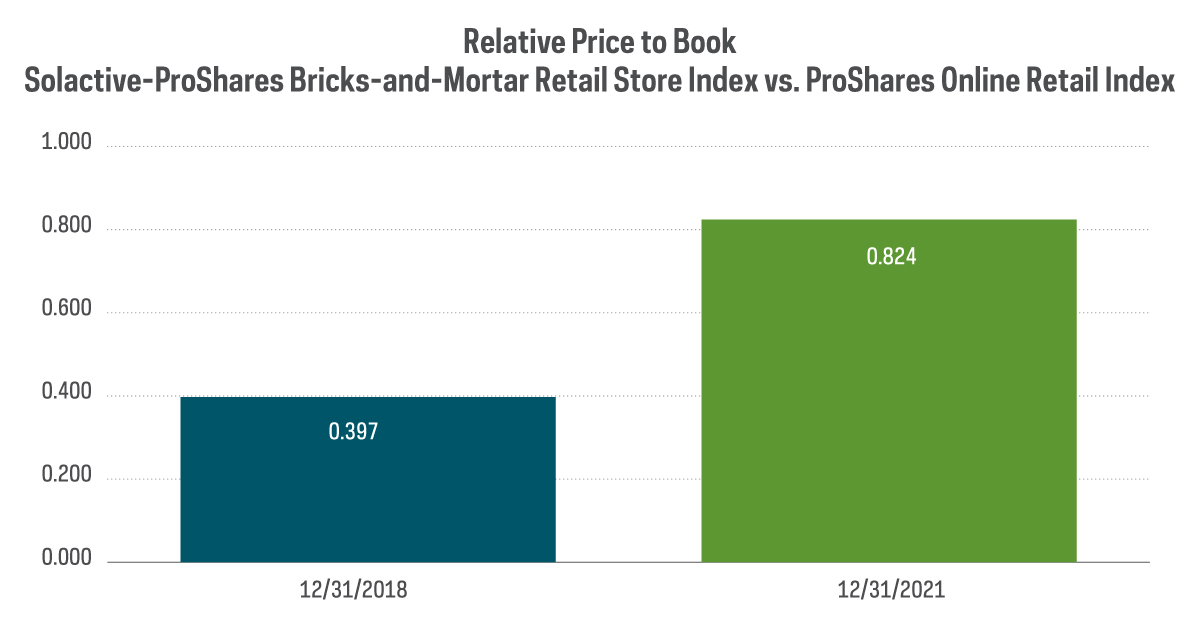 Source: Bloomberg, December 2021. Price-to-book is a ratio that compares a firm's market capitalization to its book value.
The Retail Disruption Opportunity
ProShares ETFs enable investors to tap into the long-term trends of retail disruption. Explore the suite of products.
Learn More
ONLN
Online Retail ETF
Seeks investment results, before fees and expenses, that track the performance of the ProShares Online Retail Index.
CLIX
Long Online/Short Stores ETF
Seeks investment results, before fees and expenses, that correspond to the performance of the ProShares Long Online/Short Stores Index.
Get the latest perspectives and updates.