Best known for its eponymous product, The Coca-Cola Company (NYSE: KO) is one of the world's most recognizable beverage companies. Who wouldn't "like to buy the world a Coke" after all? Coca-Cola's global presence and strong brand recognition famously attracted the investment of Warren Buffett in the late 1980s, and it remains a top holding in Berkshire Hathaway's portfolio today.
Coca-Cola has cultivated a special connection with generations of consumers, building a remarkably loyal customer base over its long history. Coca-Cola commands a convincing lead in the carbonated soft drink category, with a unit case volume share of 46.3% in the U.S. market in 2021.1
For six decades, Coca-Cola has rewarded its shareholders with consistently increasing dividends.
2
In
Berkshire Hathaway's 2022 Annual Report
, Warren Buffett noted the power of dividend growth, stating that "growth occurred every year, just as certain as birthdays. All Charlie [Munger] and I were required to do was cash Coke's quarterly dividend checks. We expect that those checks are highly likely to grow."
3
Coca-Cola's Cumulative Growth of Dividends Since 1979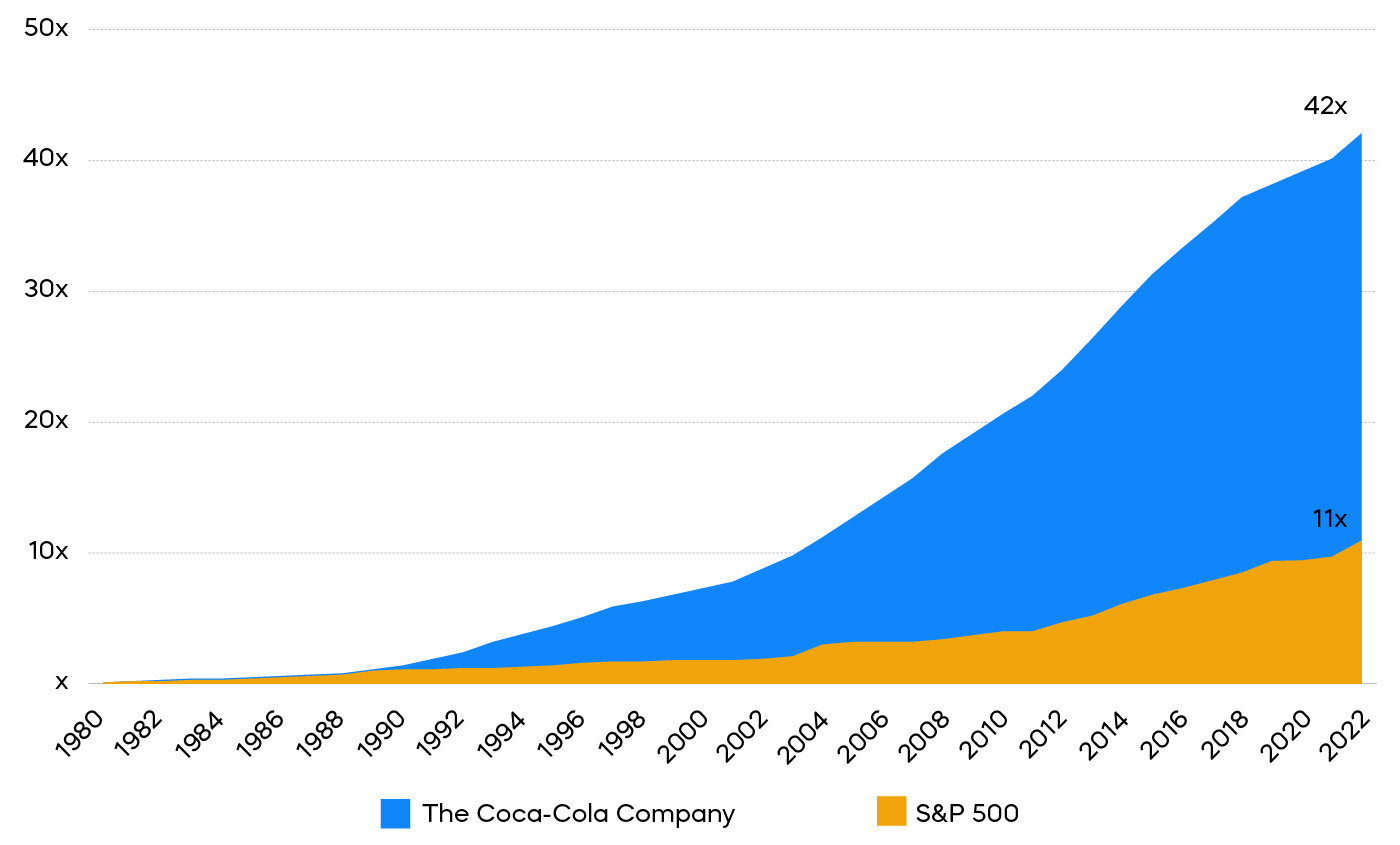 Source: Bloomberg. Data from 12/31/79 to 12/31/22. The performance quoted represents past performance and does not guarantee future results. Indexes are unmanaged, and one cannot invest directly in an index.
The Coca-Cola Company is a great example of what it means to be an S&P 500 Dividend Aristocrat. Explore all the companies in the S&P 500 Dividend Aristocrats Index with the ProShares S&P 500 Dividend Aristocrats ETF (NOBL).
1Source: Beverage Digest
2Source: ProShares and S&P Dow Jones Indices.
Get the latest perspectives and updates.