West Pharmaceutical Services (NYSE: WST) has been an integral part of the healthcare industry for over a century. As a global leader, it specializes in containment and delivery systems for injectable medications, having supplied penicillin during WWII and COVID-19 vaccines during the pandemic. There's a strong chance you've encountered a West Pharma product.
West Pharmaceutical has fortified competitive leadership with its relentless commitment to quality. Given the paramount importance of patient safety and the reputational costs of recalls in the healthcare industry, their focus on quality is not just a selling point—it's a necessity. West Pharmaceutical sets itself apart by being a "full-service, value-added" supplier, reducing delivery times and costs while meeting the quality standards its customers expect.1
West Pharmaceutical's quality-driven ethos and market leadership has resulted in consistently higher earnings power, as evidenced with operating and net margins that double the average of the healthcare sector.2 Their remarkable earnings have led to three decades of consistent dividend growth,3 giving West Pharmaceutical a well-earned place among other quality companies in the S&P 500 Dividend Aristocrats Index.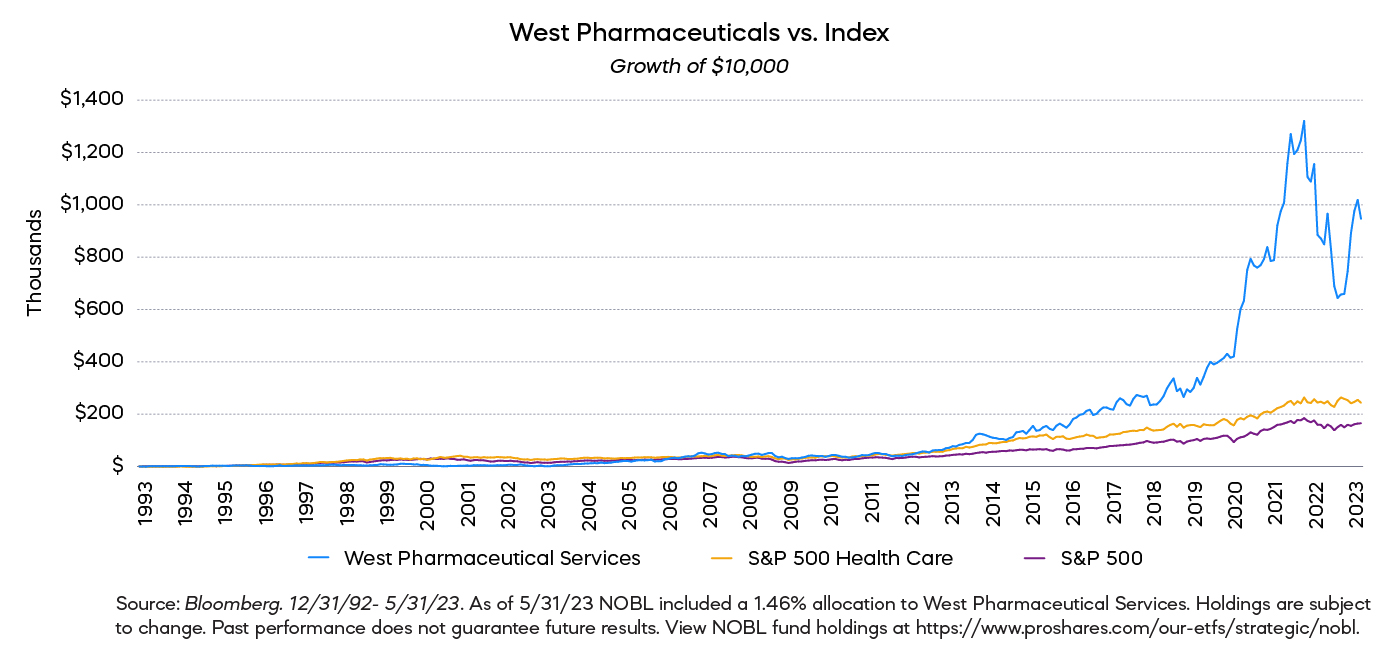 West Pharmaceuticals is a great example of what it means to be an S&P 500 Dividend Aristocrat. Explore all the companies in the S&P 500 Dividend Aristocrats Index with the ProShares S&P 500 Dividend Aristocrats ETF (NOBL).
1Source: West Pharmaceutical, Corporate Responsibility.
2Source: FactSet, five-year average ending in March 2023.
3Source: ProShares.
Get the latest perspectives and updates.