Blasting off in 1981, the Space Shuttle program propelled humanity ever closer to the cosmos. Powering each launch for the following three decades was a blend of liquid oxygen and liquid hydrogen, with the latter supplied by Air Products (NYSE: APD), an industrial gases company established in 1940 that serves energy, environmental and emerging markets. In 1983, the company began a streak of annual dividend increases that has spanned four decades and continues to this day. The company has earned its place among the Dividend Aristocrats—a select group of S&P 500 companies with at least 25 consecutive years of dividend growth.
Now a global market leader, Air Products provides hydrogen, helium, and technology and equipment for processing liquefied natural gas to diverse industries, including beverages, healthcare and semiconductors. With over 50% of its revenue generated outside North America,1 the company has consistently grown its earnings by 11% per year over the past decade, fueling its mission to create shareholder value through average annual dividend increases of 10%.2
To maintain its market leadership, APD has already committed $11 billion to be deployed over the next four years toward the renewable energy transition.3 APD is gearing up to meet the massive potential demand for clean hydrogen. It has a keen focus on blue and green hydrogen, which are clean forms of hydrogen produced using carbon capture technology. Turning its earnings power into innovation, Air Products is well on its way to delivering long-term shareholder value.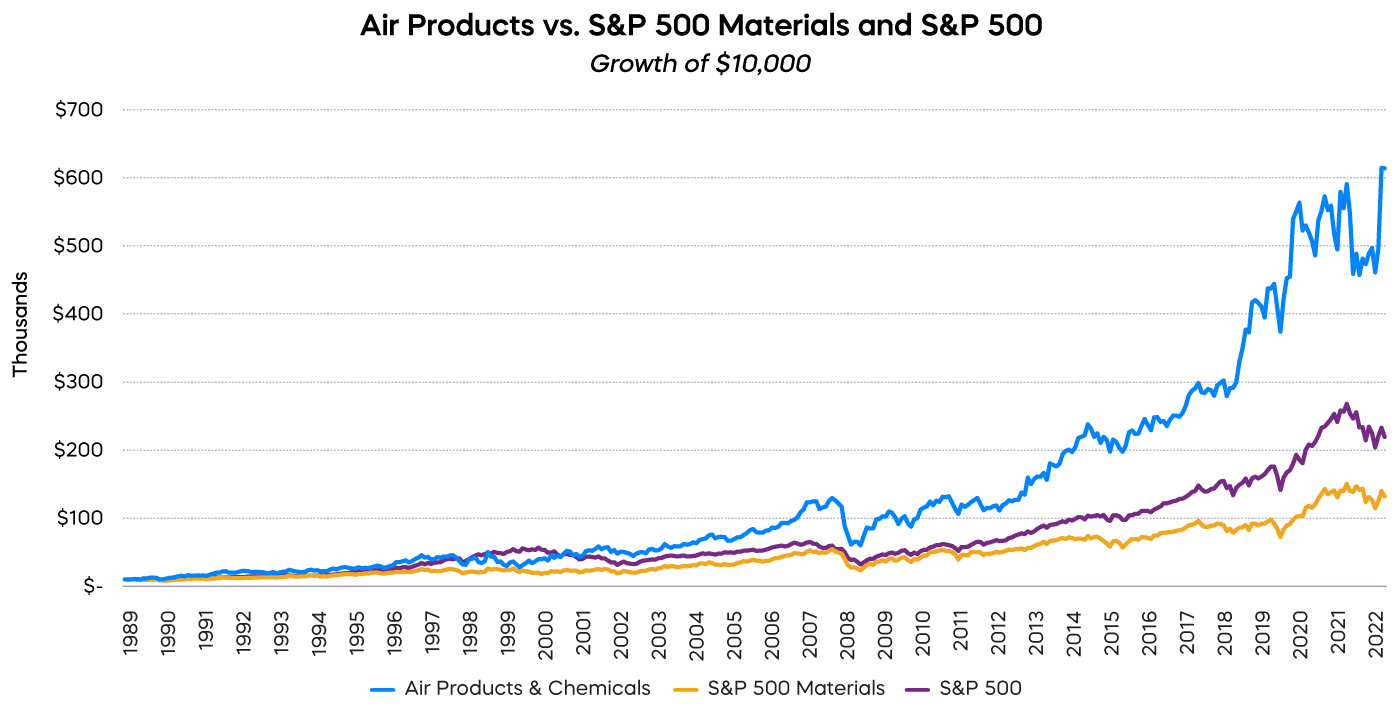 Source: Bloomberg. Data from 9/29/89 to 12/31/22.
Air Products is a great example of what it means to be an S&P 500 Dividend Aristocrat. Explore all the companies in the S&P 500 Dividend Aristocrats Index with the ProShares S&P 500 Dividend Aristocrats ETF (NOBL).
1Source: FactSet, as of September 2022.
2Source: Air Products Q1 FY23 Earnings Conference Call. Fiscal year 2014 to 2023 guidance.
3Source: Air Products Investor Relations, as of February 2023.
Get the latest perspectives and updates.