In July 2023, Roper Technologies (ticker: ROP) transferred its stock listing from the New York Stock Exchange to the Nasdaq Stock Market,[1] joining its peers on the tech-heavy Nasdaq Composite index. Roper is a leading application and network software company for niche markets. Founded over a century ago, it was originally an industrial manufacturer that went by Roper Industries until 2015.
By 2022, Roper had completed its transformation into a technology company by divesting itself of most of its industrial-product units,[2] and today, it generates more than 75% of its revenue from vertical software solutions.
Roper's transformation began with an intense focus on cash flow. Over the years, the company established market leadership in defensible niches that consistently delivered high gross margins. This translated into high operating leverage that supported the growth of free cash flow, which more than tripled between 2010 and 2020.[3]
This financial strength empowered Roper Technologies to reshape its business model through a series of acquisitions. Since 2015, the company has spent $20 billion on the M&A of predominately software assets, while preserving leverage to accommodate future deals.[4]
In addition to investing in growth and innovation, Roper has also aligned itself with shareholder values in the form of dividends. Since its IPO in 1992, Roper Technologies has never failed to grow its annual dividend payments[5]—a testament to its business model and capital discipline—now standing at 30 consecutive years of growth.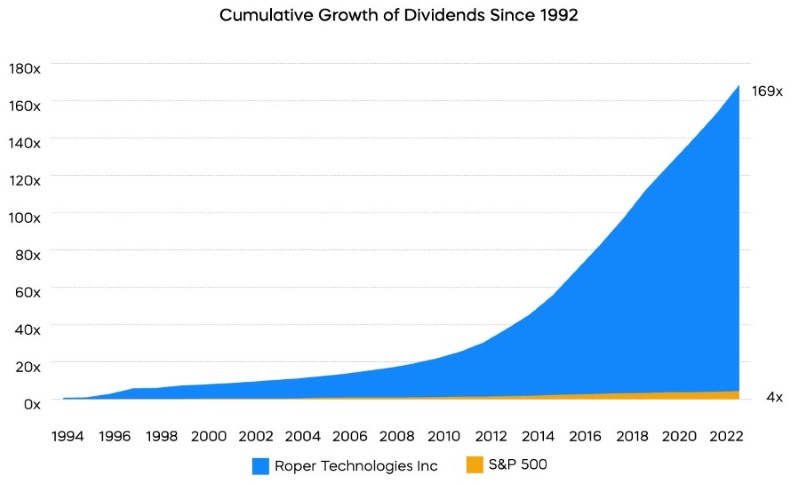 Source: Bloomberg. 12/31/92- 5/31/23.
Roper Technologies is a great example of what it means to be a Dividend Aristocrat. Explore companies in the S&P 500 Dividend Aristocrats Index with the ProShares S&P 500 Dividend Aristocrats ETF (NOBL). Explore companies in the S&P Technology Dividend Aristocrats Index with the ProShares S&P Technology Dividend Aristocrats ETF (TDV).
[1] Source: Roper Technologies, News Releases.
[2] Source: Clayton, Dubilier & Rice, News Room.
[3] Source: FactSet, LTM ending in 12/31/10 – 12/31/20.
[4] Source: Bloomberg Intelligence, 2/27/23.
[5] Source: ProShares.
Get the latest perspectives and updates.