Established as Florida Power & Light Company in 1925, NextEra Energy (NYSE: NEE) adopted its current name in 2010 to reflect its commitment to the environment and renewable energy. Today, NextEra Energy is not only the world's largest utility company, but also a leading clean energy company.
The past decade has witnessed an important shift in the market for renewable energy. Wind and solar have emerged as more cost-effective alternatives to fossil fuels, and their affordability continues to improve.[1] NextEra Energy has invested over $160 billion into renewables since 2010, becoming the world's largest wind and solar energy generator.[2] The company is also a leader in energy storage, which enables the broader adoption of renewable energy by ensuring a more stable grid.
NextEra Energy remains focused on both its balance sheet strength and investing for the future by maintaining a long-term debt-to-capital ratio of around 50%.[3] Even as the company positions itself for the clean energy revolution, NextEra Energy has consistently returned value to its shareholders through increasing dividends. In fact, the company expects double-digit annual dividend growth through at least 2024,[4] rewarding investors for participating in the transition to a sustainable energy future.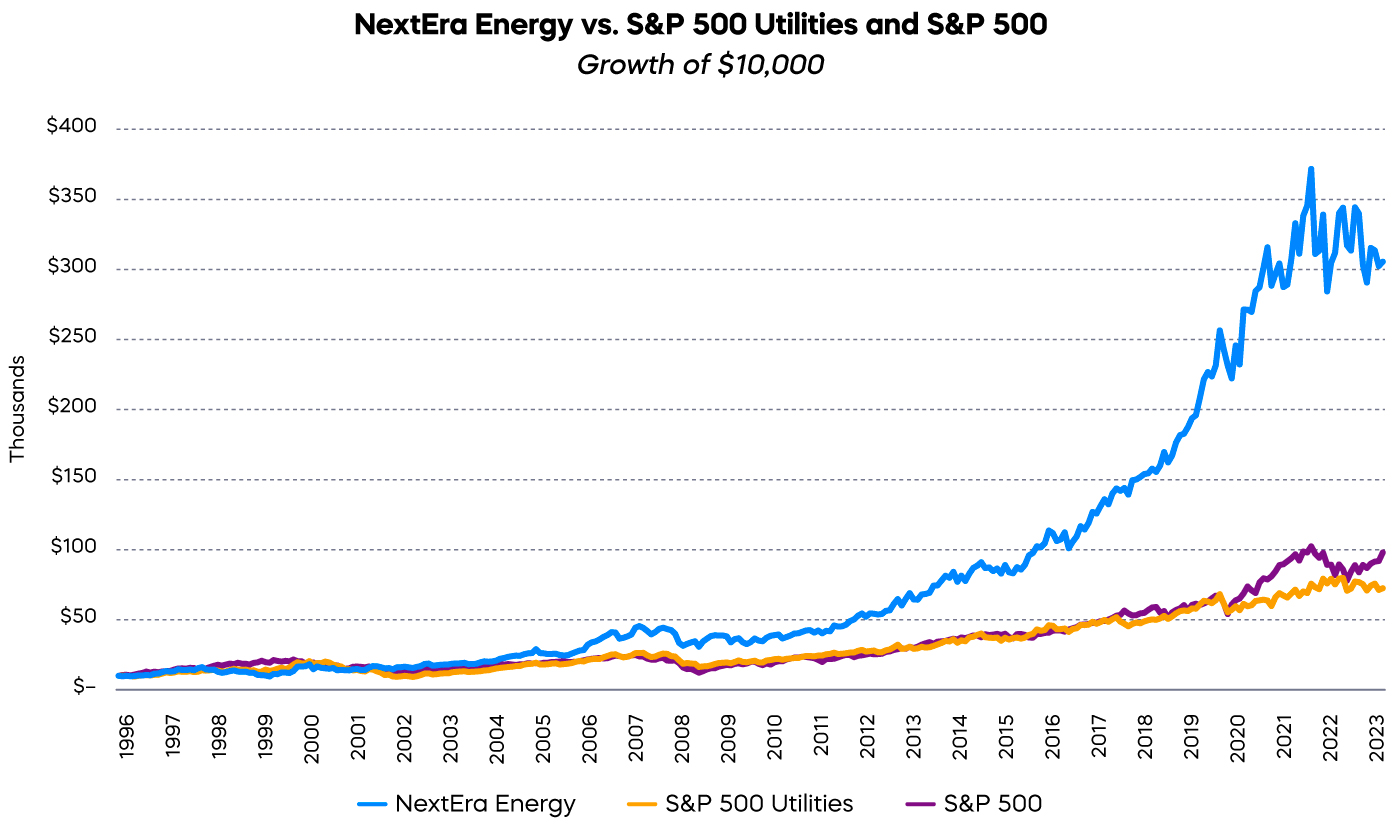 Source: Bloomberg, 12/31/96-6/30/23. Past performance does not guarantee future results. Indexes are unmanaged and do not include the effect of fees. One cannot invest directly in an index.
NextEra Energy is a great example of what it means to be a Dividend Aristocrat. Explore all the S&P 500 Dividend Aristocrats Index companies with the ProShares S&P 500 Dividend Aristocrats ETF (NOBL).
[1] Source: International Renewable Energy Agency. Levelized Cost of Energy, 2010–2021.
[2] Source: NextEra Energy Investor Relations, Cash Flow Quality and Leverage.
[3] Source: Bloomberg. TTM data, 2014–2022.
[4] Source: NextEra Energy Investor Relations, 4th Quarter 2022 Earnings Release.
Get the latest perspectives and updates.