During the pandemic, one in five U.S. households acquired a new pet.[1] For some, working from home provided the flexibility, time and attention to help their pet acclimate to their new surroundings. For others, a new pet was a welcome distraction from the day-to-day monotony of life in semi-lockdown. As offices reopen, many of these new pets may experience being home alone for the first time. That will create new challenges for owners, but also new opportunities for companies in the pet care industry. From dog-walking service Rover, to BARK's monthly BarkBoxes, to Zoetis's anti-anxiety medications, there are a range of pet care businesses ready to meet the post-pandemic needs of pet parents.
Pet Care Spending Has Increased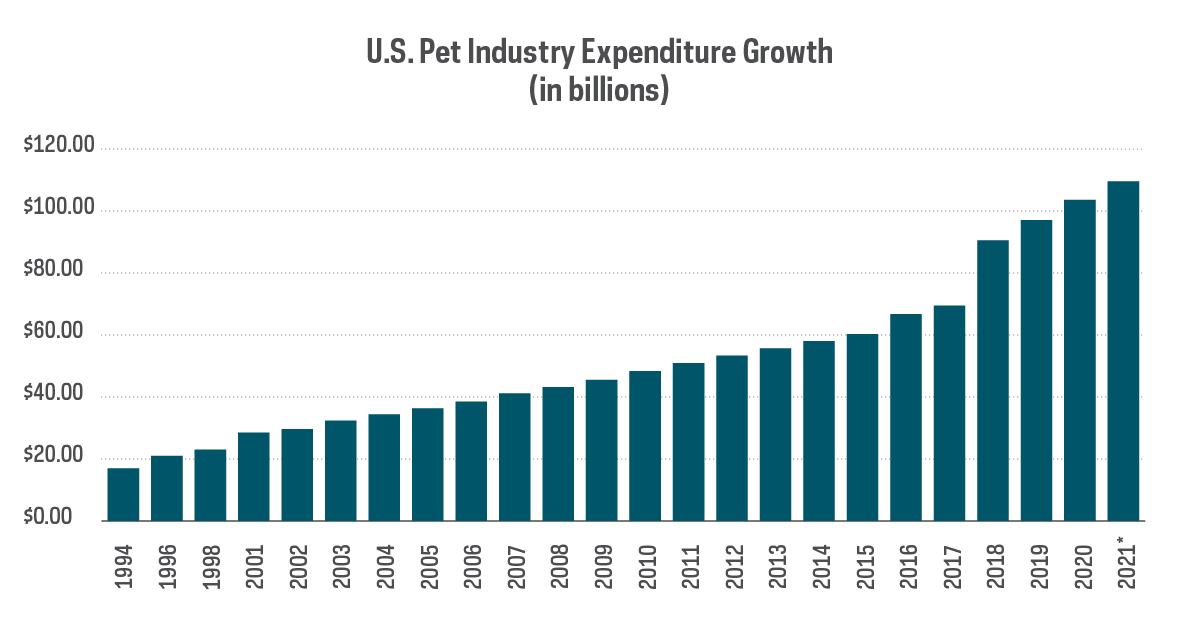 Source: APPA, April 2021. *2021 numbers are estimates
Over the past decade, pet care spending has grown to over $100 billion in the United States. Today's pet owners are not just buying food and toys but are splurging on a bevy of premium products and services – including designer clothes, high-tech monitoring devices and platinum health care insurance plans. Many see themselves as parents, not just owners, and increasingly treat companion animals as members of the family. Long-term trends and survey data suggest that pet care spending may continue to grow, even during these uncertain times.
According to a COVID-19 survey of more than 2000 consumers, the American Pet Products Association (APPA) found that 71% of participants said they had no plans to curtail their pet care purchases due to the economy and 30% reported that they had spent more on their pet in the past month compared to the previous period.[2]
What's behind the continued surge in spending? And what gives us reason to believe it can be sustained even after the pandemic recedes? Consider these three factors.
1. Pet Ownership Has Increased
Pet ownership growth tripled during the pandemic, when compared to the average growth rate over the previous decade.[3] The APPA survey found that 26% of Gen Z and 24% of Millennials had adopted a new pet due to COVID-19. For these cohorts, the spending data suggests that pets are increasingly serving as "practice children" or even taking the place of them. Gen Z reportedly spent $1,885 per year on their pet, compared to Baby Boomers and Gen X, who spent just $926 and $1,100, respectively.[4]
The behaviors of Millennials and Gen Z may shape the pet care industry for years, especially as they form new households and continue to dote on their pets. Consider this: in the U.S., the number of households with children under 18 has steadily decreased; conversely, the number of households with pets has grown. As a result, the demand for pet care-related products and services may grow at faster rate than the demand serving the consumer more broadly.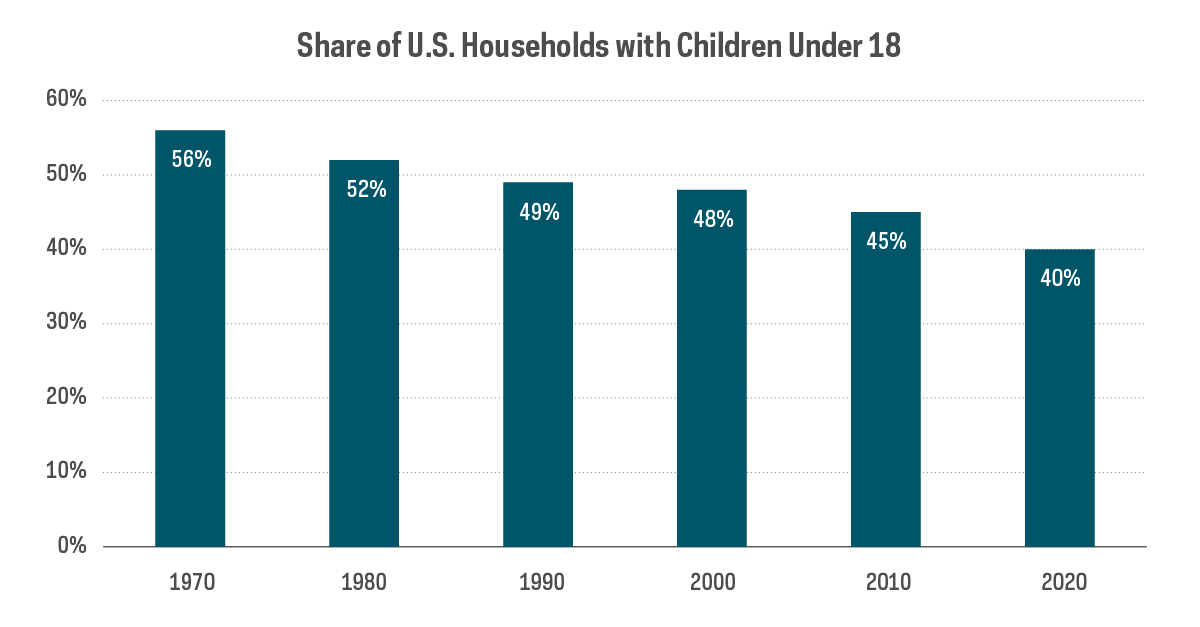 Source: U.S. Census Bureau, Statista
2. Owners Are Prioritizing Pet Health
Health care is generally the biggest expense for pet owners, and there are several signs that spending in this category may continue to increase. Companies that focus on keeping our pets healthy, such as Idexx Laboratories and Merck & Co., are developing new diagnostics, medicines and other treatments designed to improve our pets' life expectancy as well as their quality of life. The American Veterinary Medical Association reported that in 2020 owners spent more money per veterinary visit in previous years, seeking higher-value products and services.[5] Additionally, the number of pets with health insurance increased from 18% in 2019 to 27% in 2020, according to Morgan Stanley's 2021 survey. Trupanion, one of the largest medical insurance companies for cats and dogs, indicated that revenue from its subscription business had increased by 28% year over year in its November 2021 quarterly earnings release.
3. The Rise of the Petrepreneur
The pet care industry is undergoing a wave of research and innovation, and there are a number of companies – both large and small – poised to benefit from both the proliferation of pet ownership and advances in the ways we care for our pets. Since 2020, at least six companies that focus on pet care have gone public and are included in the FactSet Pet Care Index. Some of these newer additions include Rover, an online marketplace that offers both pet sitting and dog walking services, and BARK, which aims to support the lifelong relationships their customers build with their dogs and offers a subscription-based BarkBox. In addition to these newer entrants to the FactSet Pet Care Index, some of the more established firms include those researching and developing new products to keep our pets healthy. Veterinary pharmaceuticals and veterinary diagnostic companies make up 24% and 13% of the index, respectively. Altogether, those businesses that focus on pet health care represent 58% of the Index.[6] An important consideration given that health care can be the largest expense for pet parents and that the four-legged friends adopted during the recent pandemic "puppy boom" may require additional spending on health care as they grow older.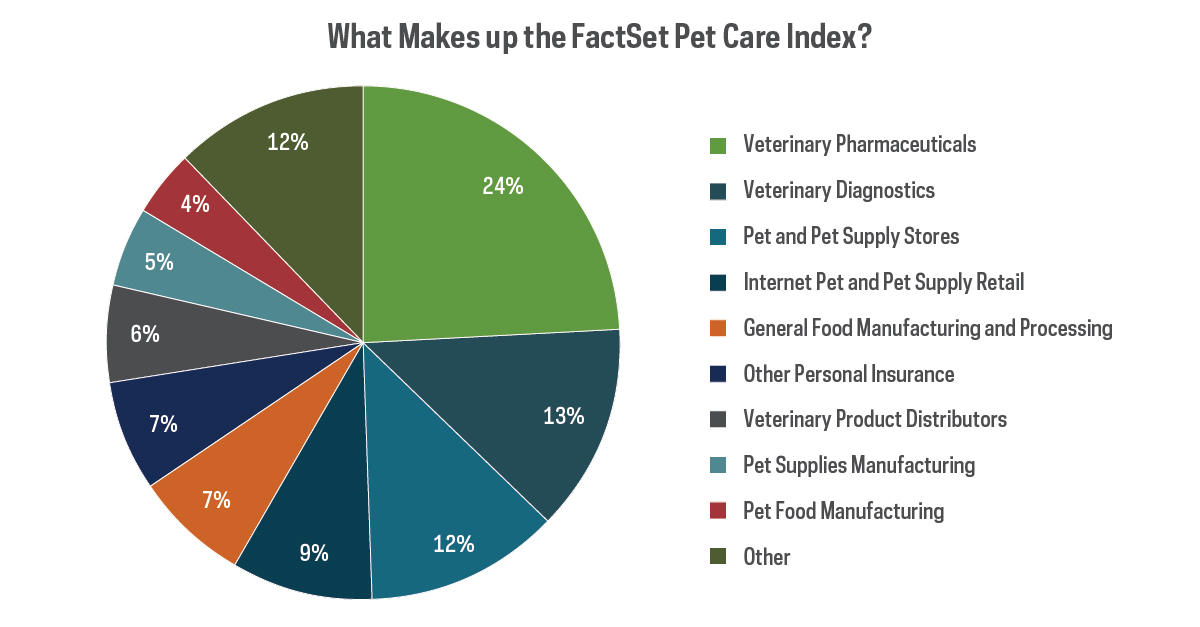 Source: FactSet, December 31, 2021
How Investors Can Access the Pet Care Industry
PAWZ is the first ETF that allows investors to capitalize on people's passions for their pets. PAWZ gives investors the opportunity to gain broad exposure to public companies in the global pet care industry – companies that stand to potentially benefit from the proliferation of pet ownership and the emerging trends affecting how we care for our pets. PAWZ tracks the FactSet Pet Care Index.
1 ASPCA, "New ASPCA Survey Shows Overwhelming Majority of Dogs and Cats Acquired During the Pandemic Are Still in Their Homes," May 2021
2 APPA, "COVID-19 Pulse Study: Pet Ownership During the Pandemic", Volume 5, January 2022
3 Source: Morgan Stanley report, "Welcome to the Petriarchy," March 2021
4 LendingTree Survey, September 2021
5 American Veterinary Medical Association, "Are We in a Veterinary Workforce Crisis?" September 2021
6 Allocation to pet health care as of 12/31/2021
IMPORTANT INFORMATION

As of 12/31/2021, PAWZ included allocations of 1.24% to Rover Group Inc, 10.14% to Zoetis, Inc. 0.45% to BARK., 5.84% to Trupanion, 10.42% to IDEXX Laboratories Inc. and 4.57% to Merck & Co. Holdings are subject to change.

This is not intended to be investment advice. There is no guarantee forecasts will be met. Indexes are unmanaged and one cannot invest in an index.

There is no guarantee any ProShares ETF will achieve its investment objective.

Shares of any ETF are generally bought and sold at market price (not NAV) and are not individually redeemed from the fund. Your brokerage commissions will reduce returns.

Any forward-looking statements herein are based on expectations of ProShare Advisors LLC at this time. ProShare Advisors LLC undertakes no duty to update or revise any forward-looking statements, whether as a result of new information, future events or otherwise.

Investing is currently subject to additional risks and uncertainties related to COVID-19, including general economic, market and business conditions; changes in laws or regulations or other actions made by governmental authorities or regulatory bodies; and world economic and political developments.

Investing involves risk, including the possible loss of principal. This ProShares ETF is subject to certain risks, including the risk that the fund may not track the performance of the index and that the fund's market price may fluctuate, which may decrease performance. Please see their summary and full prospectuses for a more complete description of risks.
The fund is subject to the risks faced by companies in the pet care industry. Although the pet care industry has historically seen steady growth and has been resilient to economic downturns, these trends may not continue or may reverse. This fund is non-diversified and concentrates its investments in certain sectors. Non-diversified and narrowly focused investments typically exhibit higher volatility.
Investments in smaller companies typically exhibit higher volatility. Small- and mid-cap companies may have limited product lines or resources, may be dependent upon a particular market niche and may have greater fluctuations in price than the stocks of larger companies. Small- and mid-cap companies may lack the financial and personnel resources to handle economic or industry-wide setbacks and, as a result, such setbacks could have a greater effect on small- and mid-cap security prices.
The "FactSet Pet Care Index" and "FactSet" are trademarks of FactSet Research Systems Inc. and have been licensed for use by ProShares. ProShares have not been passed on by these entities or their affiliates as to their legality or suitability. ProShares based on the FactSet Pet Care Index are not sponsored, endorsed, sold, or promoted by FactSet Research Systems Inc., and it makes no representation regarding the advisability of investing in ProShares. THIS ENTITY AND ITS AFFILIATES MAKE NO WARRANTIES AND BEAR NO LIABILITY WITH RESPECT TO PROSHARES. FactSet Research Systems Inc. does not guarantee the accuracy and/or the completeness of the FactSet Pet Care Index or any data included therein, and FactSet Research Systems Inc. shall have no liability for any errors, omissions, or interruptions therein.

Carefully consider the investment objectives, risks, charges and expenses of ProShares before investing. This and other information can be found in their summary and full prospectuses. Read them carefully before investing.
Learn More
PAWZ
Pet Care ETF
PAWZ is the first ETF focused on the pet care industry, giving investors the opportunity to gain broad exposure to public companies in the global pet care industry.
Get the latest perspectives and updates.