Uniforms and other supplies to keep your employees ready for the workday probably seems like a mundane part of daily operations, but it is indispensable for millions of businesses. For nearly a century, people have entrusted Cintas Corp (Nasdaq: CTAS) and its 40,000 employees, one of the largest companies in the $39 billion textile rental service industry,1 with that mission-critical responsibility.
In a market where competitive scale is crucial, Cintas is the clear leader. It commands 14% of the U.S. textiles rental market and 39% of the uniform rental market, greater share than its two largest competitors combined.[1] And Cintas focuses on more than growth; it strives for operational efficiency too. For instance, it deploys a proprietary smart-truck technology to optimize routing and minimize energy consumption across its fleet of 11,000 delivery vehicles. Cintas has steadily increased both gross and operating margins over the past decade, and by utilizing its operating leverage, it has doubled revenue and more than quadrupled earnings during that time.[2]
In addition to uniforms, Cintas also provides facility services, first aid supplies and safety equipment to over a million customers, none of which contributes more than 1% of total revenue.[3] Moreover, Cintas' emphasis on the generally resilient service economy—70% of current customers operate in industries like healthcare, education and government[4]—has enabled the company to consistently grow sales and dividends in all types of environments, exemplifying the characteristics of a Dividend Aristocrat.
Cintas Corp. vs. S&P 500 Industrials and S&P 500
Growth of $10,000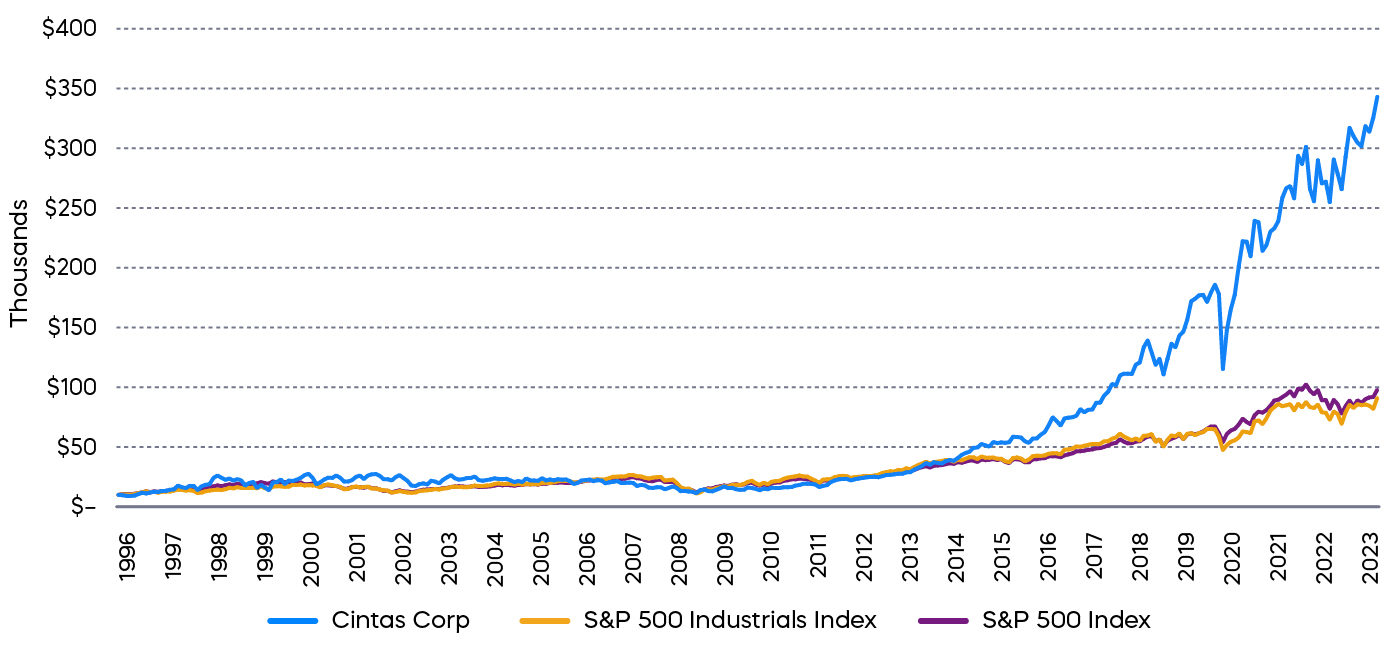 Source: Bloomberg. 12/31/96- 6/30/23
Cintas is a great example of what it means to be a Dividend Aristocrat. Explore all the S&P 500 Dividend Aristocrats Index companies with the ProShares S&P 500 Dividend Aristocrats ETF (NOBL).
[1] Source: Robert W. Baird & Co. Data as of September 2021.
[2] Source: Bloomberg. Data from FY 2013 to FY 2023 ending in May 2023.
[3] Source: Cintas By The Numbers, cintas.com.
[4] Source: Q1 2024 Cintas Corporation Earnings Conference Call.
Get the latest perspectives and updates.