It may be called the Inflation Reduction Act (IRA), but the landmark bill just signed into law has the potential to be the most significant piece of climate legislation in U.S. history. Roughly 85% of the bill's planned expenditures, or $369 billion, is allocated to clean energy technology. It's a catalyst that cleantech watchers have been anxiously looking forward to for years.
The IRA bill provides incentives for both companies and consumers, including:
$60 billion of incentives for clean energy manufacturing, including tax credits for solar panels, wind turbines, batteries, critical mineral processing, electric vehicles (EVs) and more.

Consumer incentives, including $9 billion for home energy rebate programs and tax credits for lower and middle-income EV buyers ($7,000 for new EVs and $4,000 for used).
Cleantech company executives have been quick to tout the opportunity:
Andy Marsh, CEO of leading fuel cell manufacturer Plug Power, commented, "With the passage of the act, we expect a boom for our electrolyzer and green hydrogen business."1

Mary Powell, CEO of leading residential solar panel and battery provider Sunrun, commented, "With subsidies in place for electric vehicles and heat pumps, more homes will need additional electric power, and the value proposition of solar will only grow."2
Wall Street analysts have been quick to note the opportunity as well:
Bank of America upgraded their rating of First Solar, a leading solar modules manufacturer. Exposure to favorable policy catalysts may potentially support up to $570 million in production tax credits tied to First Solar's 3.3 GW Ohio factory.3

JPMorgan upgraded their rating of TPI Composites—a leading wind blade manufacturer. The Inflation Reduction Act may benefit this domestic company, which already has existing manufacturing infrastructure.4
Seek Well-Targeted Cleantech Solutions
Many investors don't know what green hydrogen is, how First Solar's 3.3 GW factory works, or how to rank cleantech companies by percentage of domestic manufacturing. Most are simply looking for a well-targeted cleantech investment solution. For those investors, ProShares S&P Kensho Cleantech ETF (ticker: CTEX) may fit the bill. This ETF tracks the S&P Kensho Cleantech Index, which focuses on the companies that manufacture solar arrays, turbine blades, storage batteries, and more—companies that are directly in the focus of the Inflation Reduction Act.
Anticipation of this legislative catalyst has indeed already been reflected in stock prices. The S&P Kensho Cleantech Index is up approximately 62% since the recent low in May. Investors worried about timing should note that the index is still down nearly 45% from its high in February 2021.5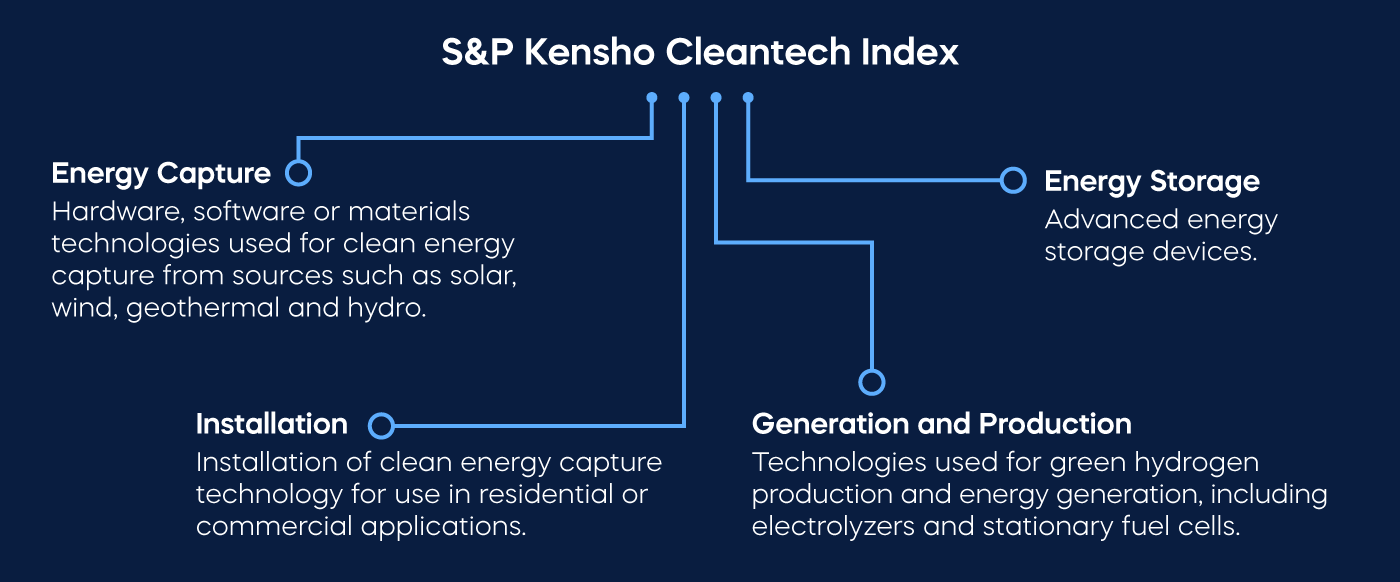 ProShares S&P Kensho Cleantech ETF
Access the Companies Behind the Clean Energy Wave
ProShares S&P Kensho Cleantech ETF (CTEX) tracks the S&P Kensho Cleantech Index. CTEX provides a one-step, convenient way of tapping into the companies at the forefront of the clean energy revolution—companies that develop, produce and supply the technology essential to producing clean power.
CTEX gives investors the convenience of owning a basket of companies providing exposure to this evolving industry and its increasing global demand—all within a single ETF.
Click here for fund performance. Indexes are unmanaged, and one cannot directly invest in an index. Past performance does not guarantee future results.
1 Plug Power Inc. Q2 2022 earnings call, 8/9/22.
2 Barrons.com, 8/8/22.
3 Seeking Alpha, 8/1/22.
4 247wallst.com, "3 Big Investment Ideas from JPMorgan with Up to 40% Upside," 8/8/22.
5 Bloomberg, 2/9/21–8/10/22 (-44.1%); 5/11/22-8/10/22 (+62.8%).
Learn More
Learn More
CTEX
S&P Kensho Cleantech ETF
Seeks investment results, before fees and expenses, that track the performance of the S&P Kensho Cleantech Index.
Get the latest perspectives and updates.