1. Technology May Offer the Best Growth with Highest Margins
Economic growth has slowed down after an unprecedented series of rate hikes from the Fed, and some investors are finding that it has become more challenging to identify future growth opportunities. FactSet reports that analysts expect a paltry 2.5% revenue growth for the S&P 500 in 2023. Despite some tepid results of late, however, technology stocks may seem like an obvious candidate for investment. Not only are tech stocks forecasted to produce the highest revenue growth of any sector in 2024, as the chart below shows, but they also produced the highest profit margins in Q2 2023.
Tech Sector: Favorable Revenue Growth with Fat Margins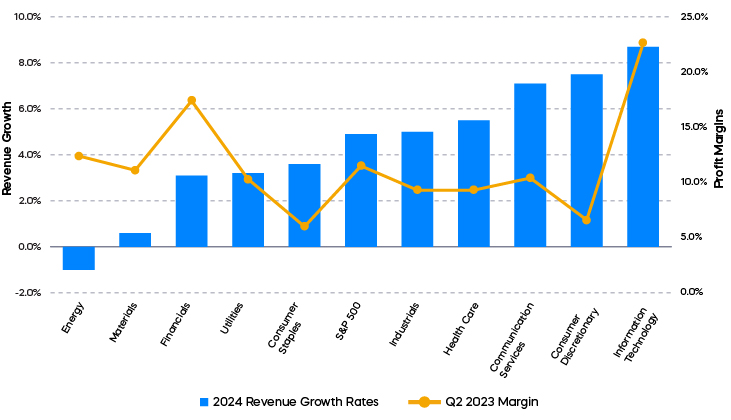 Source: FactSet. Revenue growth rates are consensus analyst expectations for 2024. Profit margins are as of Q2 2023.
2. The Technology Sector is an Unexpected Source for Dividends
Despite the attractive growth profile of tech stocks, investors in them should be selective. Profits matter again now that rates are no longer at ultra-low levels. Case in point: a significant percentage of tech stocks from the S&P 1500 aren't currently profitable.[1] One potential way to find profitable tech stocks with mature business models is by looking for companies with growing dividends. Increasingly, the tech sector is one of the market's largest sources for dividends and has grown its dividends at the fastest rate.[2] The S&P Technology Dividend Aristocrats Index is a collection of technology-related stocks that have grown dividends for at least seven consecutive years.
Source of S&P 500 Dividends by Sector 2022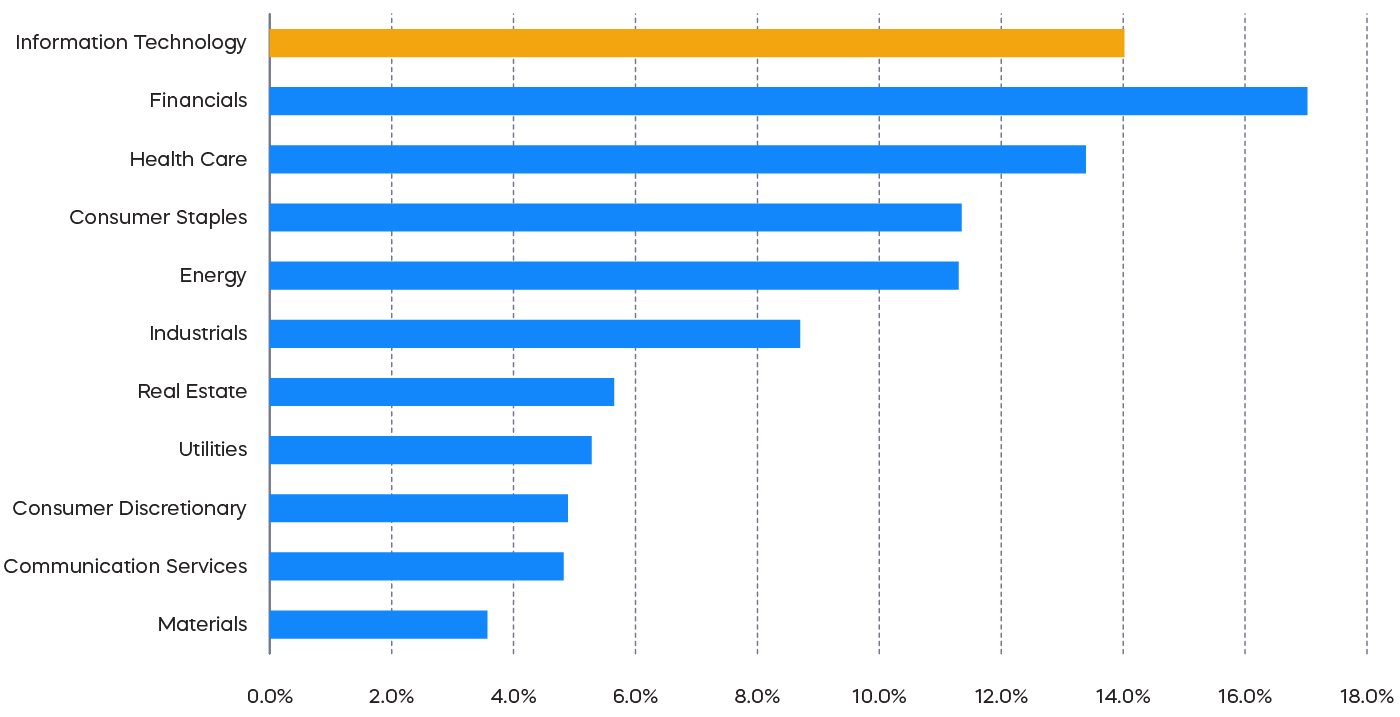 Source: FactSet. Dividends paid for 2022.
3. The Technology Dividend Aristocrats: Growth at a Reasonable Price
The valuation multiples of tech stocks have climbed steadily since the rally began earlier this year. They now stand at a lofty 35x trailing earnings, which is meaningfully higher than their 10-year average of 24x.[3] Asset allocators who are seeking attractively priced growth at what seems like a market inflection point face a potential dilemma. They can either overpay for growth, or remain on the sidelines and potentially get left behind if the market continues to rally. But as the chart below shows, the equally weighted S&P Technology Aristocrats Index provides a potential solution and may provide investors with growth at reasonable valuations.
Tech Aristocrats: Growth at a Reasonable Price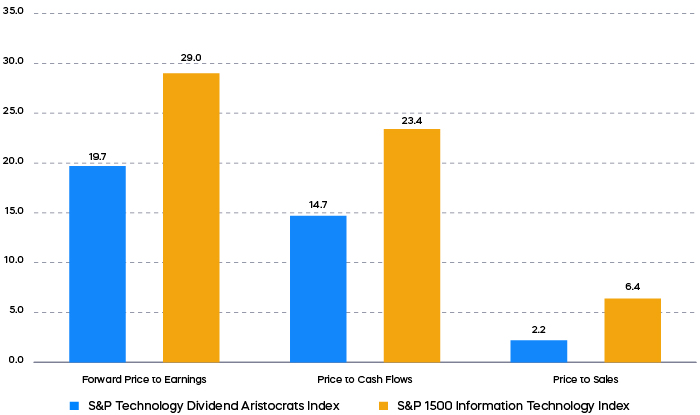 Source: FactSet. Data as of 7/31/2023. Forward price-to-earnings (forward P/E) is a version of the ratio of price-to-earnings (P/E) that uses forecasted earnings for the P/E calculation. This is not a forecast of a fund's future performance. Price-to-cash-flow measures the value of a stock's price relative to its operating cash flow per share. Price-to-sales uses a company's market capitalization and revenue to determine whether the stock seems to be valued properly. Past performance does not guarantee future results. Indexes are unmanaged, and one cannot invest directly in an index.
Learn more about how Technology Aristocrats may offer growth at a reasonable price.
[1] Source: FactSet as of 8/16/2023.
[2] FactSet
[3] FactSet
Learn More
Learn More
TDV
S&P Technology Dividend Aristocrats ETF
ProShares S&P Technology Dividend Aristocrats ETF seeks investment results, before fees and expenses, that track the performance of the S&P® Technology Dividend Aristocrats® Index.
Get the latest perspectives and updates.