A challenging market environment and an opportunity to take action
While 2023 has been a challenging year for many investors, there may be a silver lining: the opportunity to sell investments with losses to offset capital gains elsewhere.
For investors in actively managed mutual funds, the prospect of capital gains distributions could increase the importance of exiting positions with losses. Capital gains distributions may be more likely when mutual funds experience outflows.
Harvesting losses with a tax swap strategy
A tax swap is a loss harvesting strategy utilized in taxable accounts. It involves selling a fund that has experienced market losses and buying a fund with similar, but not identical, investment characteristics. By making this swap, a capital loss can be realized. That loss may then be used to offset capital gains realized in other funds and potentially reduce an investor's tax liability.
To help identify opportunities for loss harvesting, we have analyzed several market segments that have posted losses so far this year. Our analysis includes all U.S.-listed mutual funds and ETFs within the specified categories.
An Opportunity to Reposition Portfolios
The year-end may also be an opportunity to revisit investment strategies and prepare portfolios for 2024.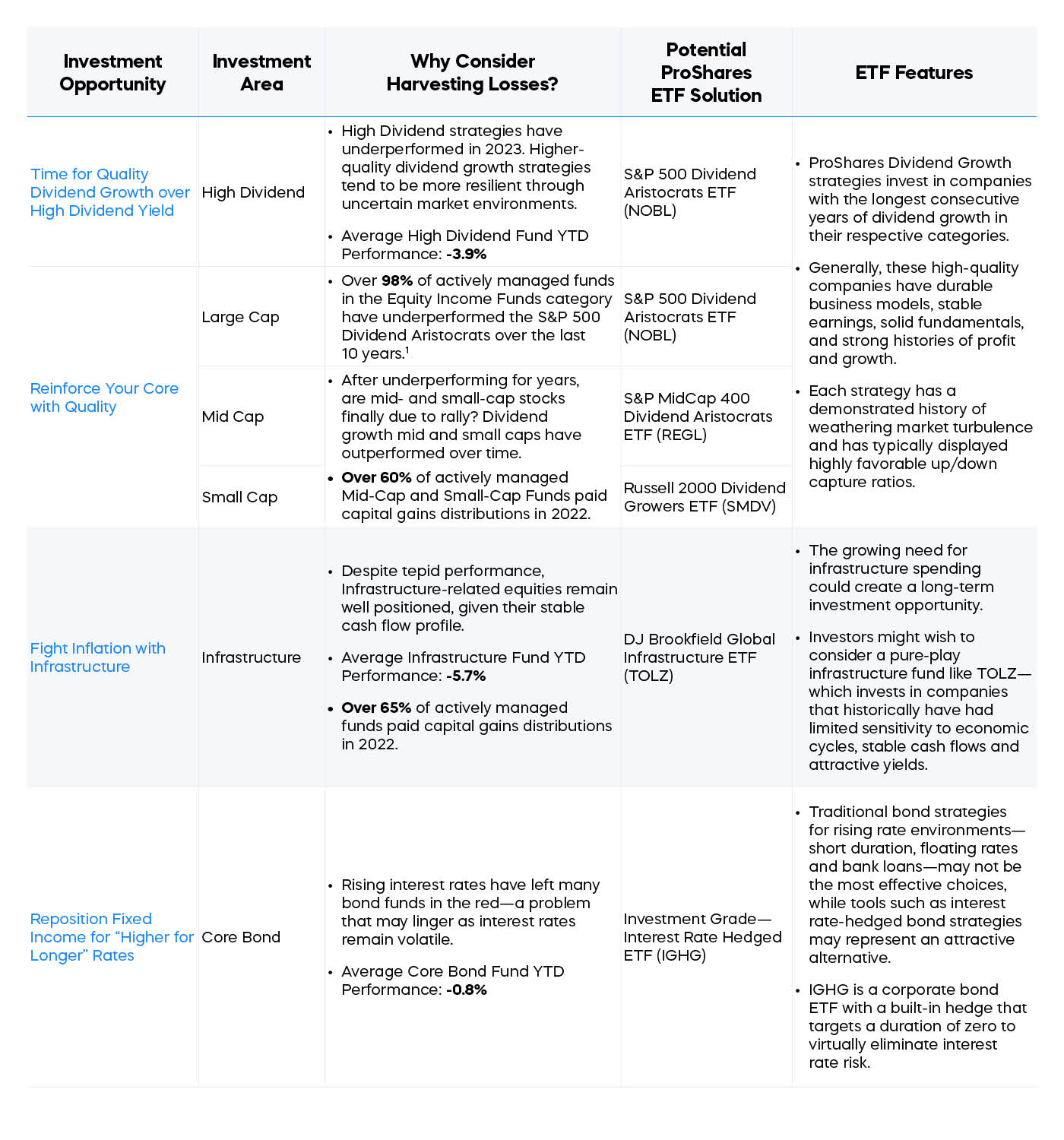 1 S&P Dow Jones Indices LLC, CRSP database; U.S. active funds within the Equity Income Funds category. Data from June 30, 2013, to June 30, 2023.
Sources: Morningstar, ProShares (1/1/23-9/30/23). All categories are based on Morningstar categorizations. The High Dividend category is composed of all ETFs classified as Strategic Beta Dividend by Morningstar and Segment U.S. Equity – High Yield by FactSet. Index performance returns are for illustrative purposes only and do not reflect any management fees, transaction costs or expenses. Indexes are unmanaged, and one cannot invest in an index. Performance data for ProShares ETFs current to the most recent month-end may be obtained at ProShares.com.
Get the latest perspectives and updates.