Rising interest rates and inflation have made 2022 among the worst on record for bond investors. However, there may be a silver lining in the sell-off. A review of bond fund investments may present the opportunity to harvest losses, attempt to offset capital gains distributions from actively managed funds, and prepare for potentially rising rates.
Bond Fund Losses Are Widespread: When interest rates rise, bonds lose money. Rising rates have left many bond funds with negative returns so far this year.

Harvesting Losses May Help Reduce Tax Burden: When held in taxable accounts, bond funds that have lost value may be sold to offset gains elsewhere and help to reduce taxes.

Consider Potential Capital Gains Distributions: For investors in actively managed mutual funds, the prospect of capital gains distributions could increase the importance of exiting positions with losses. According to Morningstar, 56% of actively managed corporate bond funds distributed capital gains in 2021.

Prepare for Rising Rates: Making year-end shifts in portfolio allocations is an opportunity to revisit investors' fixed income strategies. Interest Rate Hedged Bond ETFs could be a replacement to help prepare for potentially rising rates.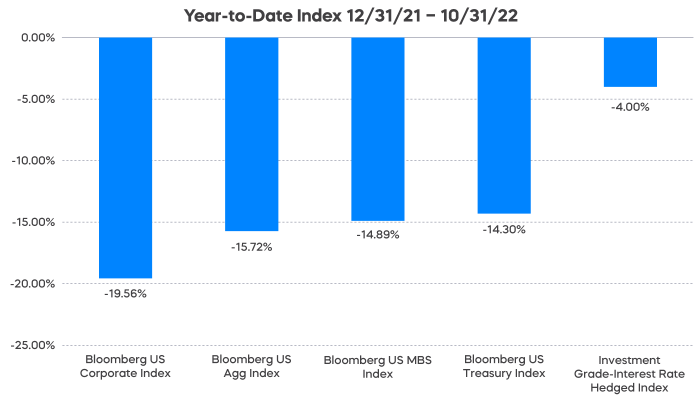 Source: Bloomberg, 12/31/21-10/31/22. The Investment Grade-Interest Rate Hedged Index is represented by the FTSE Corporate Investment-Grade (Treasury-Rate Hedged) Index.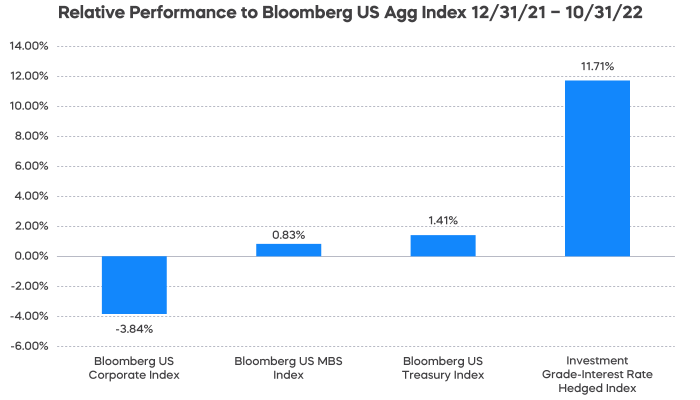 Source: Bloomberg, 12/31/21-10/31/22. Index information does not reflect any management fees, transaction costs, or expenses. Indexes are unmanaged, and one cannot directly invest in an index. Past performance does not guarantee future results.
If your bond funds have lost money this year, you may be looking to harvest losses to offset potential capital gains in other areas. If so, consider replacing some of your holdings with an Interest Rate Hedged ETF, like ProShares Investment Grade—Interest Rate Hedged (IGHG). IGHG is a diversified portfolio of long-term investment grade bonds with a built-in hedge designed to alleviate the impact of rising rates.
IGHG is an innovative bond ETF that:
Offers the return potential of a diversified portfolio of investment grade corporate bonds.

Has an interest rate hedge that uses short Treasury futures to target zero interest rate risk.
Get the latest perspectives and updates.