Key Takeaways:
The cleantech investment opportunity is cross sector, spanning companies in diverse disciplines, industries and market capitalizations.

Emerging solar, hydro, wind, geothermal and other clean power companies will rely on the products, services and ideas of cleantech companies.

ProShares S&P Kensho Cleantech ETF (CTEX) offers investors exposure to a diverse set of cleantech companies in a single ETF.
What Is Cleantech?
Essential to clean energy is a category of companies known as "clean technology" or "cleantech." The products and services these diverse cleantech companies provide are critical to producing, supporting and storing clean energy. As a result, the cleantech category has the potential to be a growth investment opportunity for the long term.

Clean Energy Is Becoming Essential to Meeting Energy Demands
The demand for energy is outstripping supply. With a global population set to grow by 2 billion by 2050, greater urbanization and industrialization, rising incomes, and increasing demands for energy services, today's energy systems are unlikely to be adequate in the coming decades.1 In addition, since more than 50 countries and the entire European Union committed to net-zero carbon emissions by 2050,2 dependence on oil may dramatically decrease.
For these reasons, a transition to clean energy—low-emission alternatives like solar, wind, hydro and geothermal energy—may be essential in the future. It's estimated that this transition will require a spending surge of nearly $4 trillion by 20301 to achieve it.
Cleantech Could Be a Trillion-Dollar Market Opportunity
Manufacturers of wind turbines, solar panels, lithium-ion batteries, electrolyzers and fuel cells are anticipated to have an annual market opportunity rising well above $1 trillion by 2050,1 especially as dependence on oil potentially decreases. As the chart below shows, cleantech (as defined by wind, solar, batteries, electrolyzers and fuel cells) is projected to rapidly accelerate, with a significant jump in growth expected to occur by 2030—which may make cleantech a growth investment opportunity that's here to stay.
Cleantech may be poised for a sizable and lasting jump in International Energy Agency's (IEA) net-zero scenario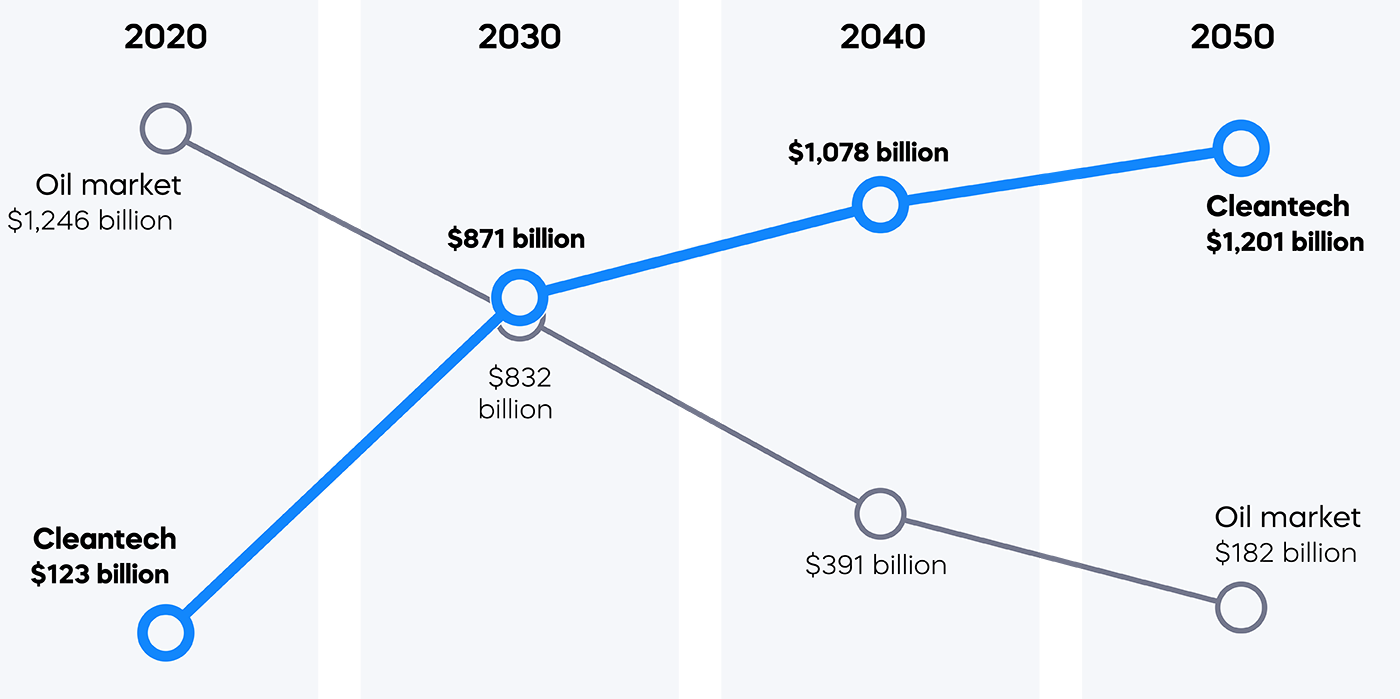 Source: International Energy Agency (IEA), 10/12/21. "Market size" is defined as anticipated average revenues of tradeable units of core technologies, rather than investment or spending estimates that include other costs such as installation costs.
Capturing the Cleantech Opportunity
While the cleantech investment opportunity may be substantial, capturing it has traditionally been challenging. That's because the kinds of firms that might be classified as cleantech companies are so diverse. In general, cleantech companies:

Identifying these companies requires insight into a broad array of disciplines and industries. The S&P Kensho Cleantech Index seeks to achieve this by tracking and capturing the evolving cleantech opportunity. It uses a rules-based selection process and is reconstituted annually.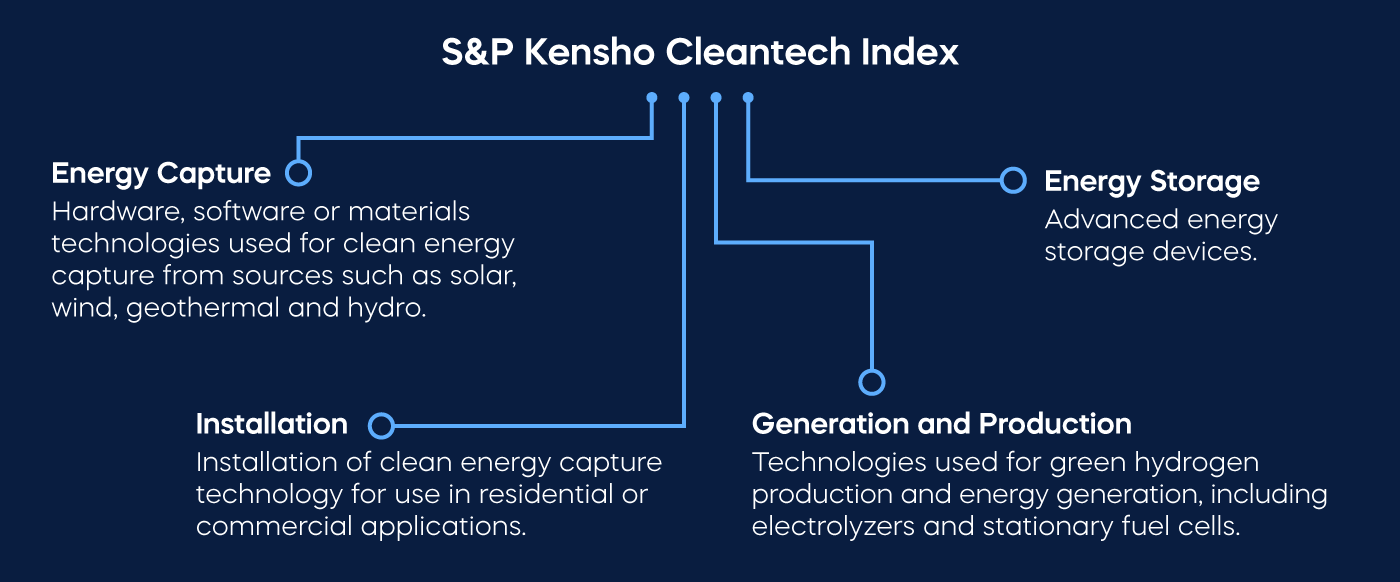 ProShares S&P Kensho Cleantech ETF
Access the Companies Behind the Clean Energy Wave
The ProShares S&P Kensho Cleantech ETF (CTEX) tracks the S&P Kensho Cleantech Index. CTEX provides a one-step, convenient way of tapping into the companies at the forefront of the clean energy revolution—companies that develop, produce and supply the technology essential to producing clean power.
CTEX gives investors the convenience of owning a diversified basket of companies providing exposure to this evolving industry and its increasing global demand—all within a single ETF.
1International Energy Agency (IEA), World Energy Outlook, "Report Extract: A New Energy Economy Is Emerging," 2021.
2IEA, "Estimated market sizes of oil and selected clean energy technology equipment in the Net Zero Scenario, 2020-2050," 10/12/21.
Learn More
Learn More
CTEX
S&P Kensho Cleantech ETF
Seeks investment results, before fees and expenses, that track the performance of the S&P Kensho Cleantech Index.
Get the latest perspectives and updates.