INVESTMENT CASE
VERS
Metaverse ETF
Companies Shaping the Next Frontier of Digital Interactions
Key Takeaways:
The metaverse is more than gaming—and presents a potentially significant opportunity.

A diverse set of companies is providing tools for constructing the metaverse and may be poised to benefit from its growth potential.

ProShares Metaverse ETF (VERS) offers investors exposure to the metaverse ecosystem in a single ETF.
Virtual Worlds, Real Opportunities
In a span of 30 years, the internet fundamentally changed how many of us access information, shop, work, play, manage our finances, and even maintain friendships. The metaverse has the potential to catalyze a similar radical shift—and could quickly take our personal and commercial digital interactions to a whole new level.
What is the metaverse?
Combining aspects of the physical and digital worlds, the metaverse creates immersive experiences through virtual and augmented realities that connect people as they would in real life.

More Than Gaming: The Metaverse Expands into Other Sectors
While the consumer sector, including gaming, has laid much of the groundwork, a broad array of sectors is being established in the metaverse. In fact, nearly half (47%) of the market share in virtual reality (VR) and augmented reality (AR)—the conceptual fabric of the metaverse—is from outside consumer sectors.1 This expansion could have a major impact on the global economy. PWC projects that the creation of new businesses could expand global gross domestic product (GDP) by $1.5 trillion by 2030.2
Creation of new metaverse-related businesses could expand GDP significantly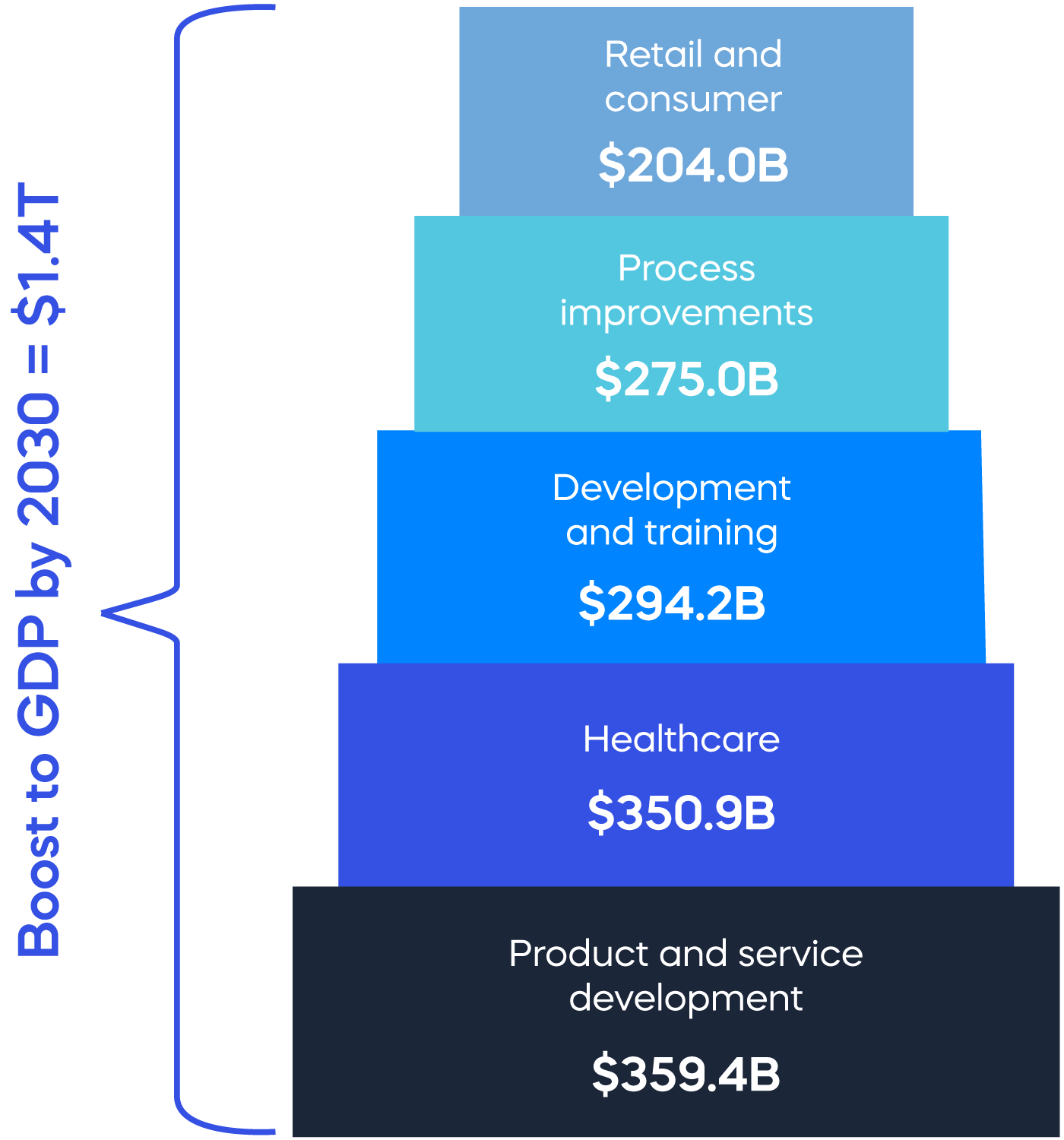 Source: PWC, "#SeeingIsBelieving," 2019.
Nearly half of virtual reality and augmented reality market share is outside consumer sectors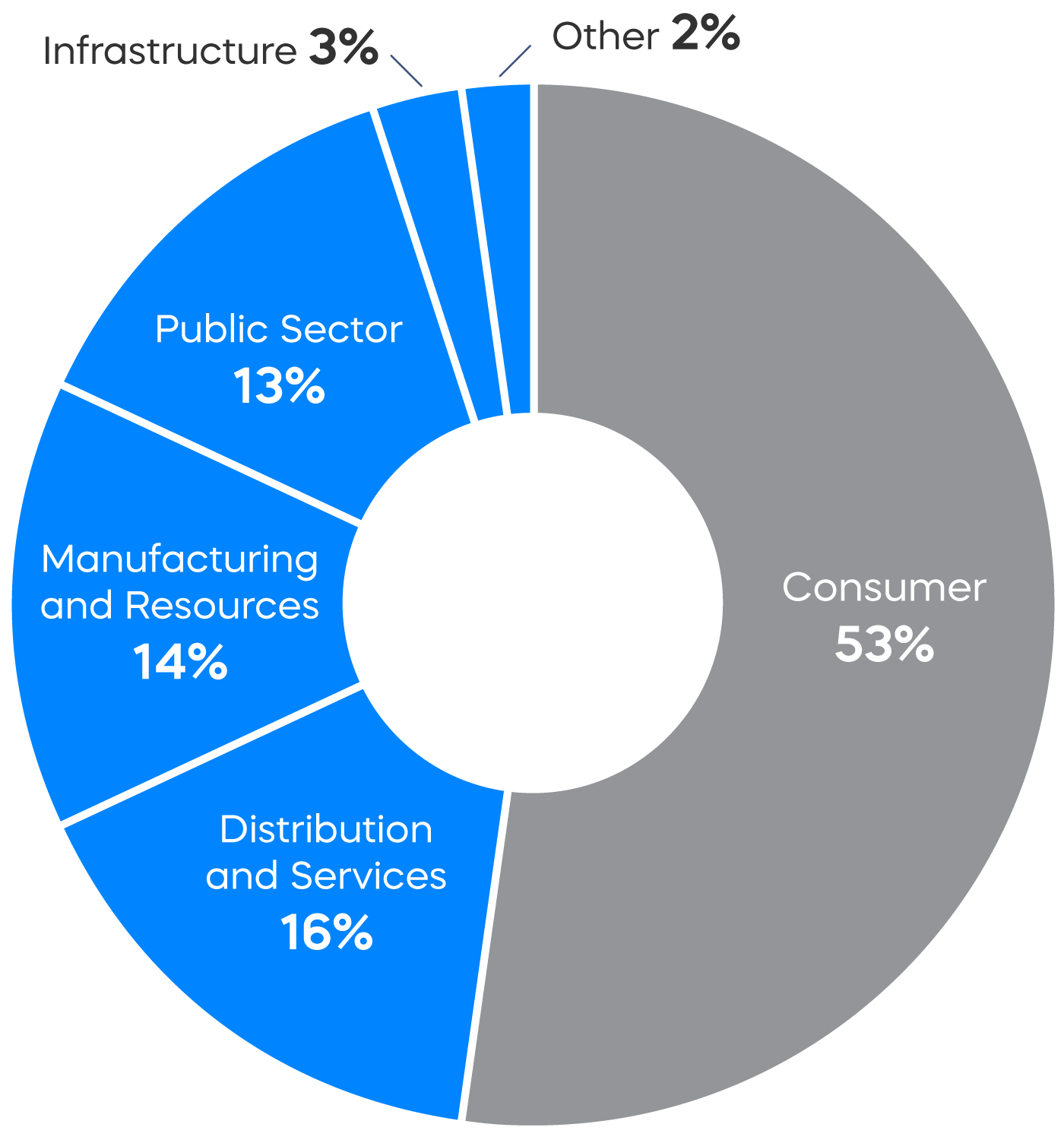 Source: IDC, Morgan Stanley Wealth Management Global Investment Office, as of September 21, 2021. Weightings do not equal 100% due to rounding.
Although it could take at least a decade to fully realize this transformation, the shift has already started. Immersive digital technologies have already been used in healthcare to monitor COVID-19 patients, in manufacturing to conduct industrial safety training and increase productivity, in real estate to offer 3D-digital walkthroughs, and across corporations to run collaborative virtual meetings, conferences and employment interviews. And within consumer industries, the opportunities in gaming and entertainment are coupled with potential e-commerce growth—with virtual fitting rooms for clothing retailers, virtual real estate for metaverse "stores," and a burgeoning online advertising opportunity.
Capturing a Diverse Metaverse
A broad range of companies and technologies are expected to be involved in building the metaverse and enabling it to reach its potential—spanning traditional tech players and emerging innovators. The Solactive Metaverse Theme Index has five subthemes that seek to capture the metaverse investment opportunity: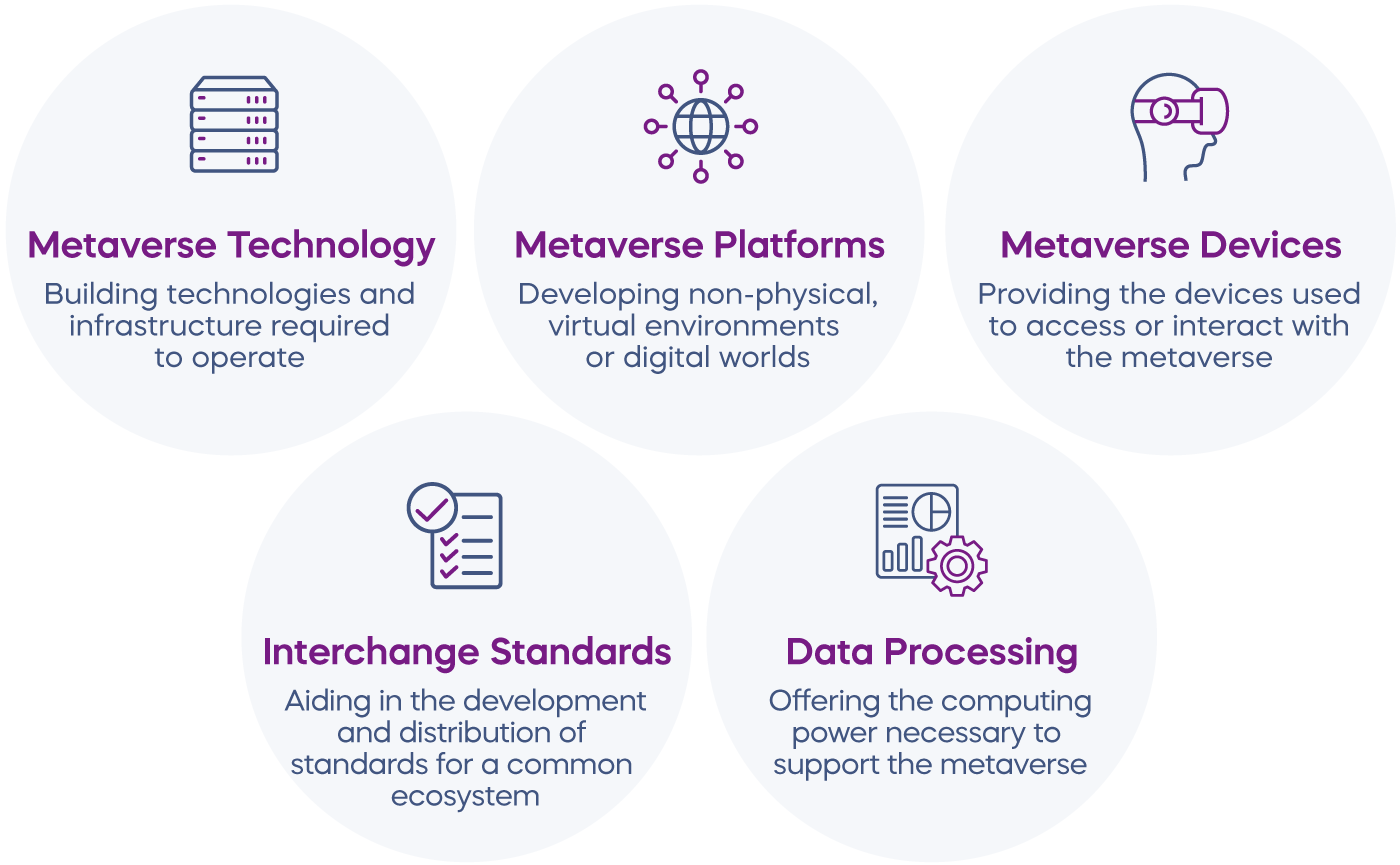 Access Companies Shaping the Next Frontier of Digital Interactions
ProShares Metaverse ETF (VERS) offers investors access to the companies that are shaping the next frontier of digital interactions. VERS aims to capture both established and emerging names with business models relevant, or expected to become relevant, to the metaverse industry. VERS gives investors the convenience of owning a diversified basket of companies providing exposure to this evolving digital ecosystem, within a single ETF.
1 Morgan Stanley Wealth Management, "Investing in the Metaverse: New Opportunities in Virtual Worlds," December 16, 2021.
2 PWC, "Seeing Is Believing. How Virtual Reality and Augmented Reality Are Transforming Business and the Economy," 2019.
Diversification does not ensure a profit or guarantee against a loss.
ABOUT The ETF
Ticker Symbol

VERS

Intraday Symbol

VERS.IV

Bloomberg Index Symbol

SOMETAV

Investment Objective

ProShares Metaverse ETF seeks investment results, before fees and expenses, that track the performance of the Solactive Metaverse Theme Index.

Inception

3/15/2022
ABOUT THE INDEX
The index is designed to track the performance of companies that have, or are expected to have, significant exposure to the provision of products and/or services that contribute to the metaverse industry, as determined by the index methodology.
Download Prospectus


This links to a pdf file
This link opens a new window