INVESTMENT CASE
PAWZ
Pet Care ETF
Is Your Best Friend Also Your Best Investment?
Key Takeaways:
Pet care spending is big business, reaching more than $120 billion in the United States.
Long-term trends show significant increases in pet ownership and a shift toward premium products and services.
A boom in pet care and pet health has led to increased innovation and spending in these industries.
PAWZ is the first ETF focused on the pet care industry, giving investors the opportunity to benefit from the proliferation of pet ownership and the emerging trends affecting how we care for our pets.
Pet Care Spending Is Big Business
Pet care spending has grown to over $100 billion annually in the United States.1 Today's pet owners are not just buying food and toys but also splurging on a bevy of premium products and services: designer clothes, high-tech monitoring devices, platinum health insurance plans, and more.
Long-term trends and survey data suggest that pet care spending may continue to grow, even during periods of economic uncertainty. Indeed, pet care spending has continuously increased for decades.

Behind Pet Care Spending Growth Trends
The U.S. pet care industry has seen steady growth each year since 2001, even during the Great Recession. And a similar boom has been building internationally: The global pet care industry is expected to grow to as much as $350 billion by 2027, a more than 50% increase from $232 billion in 2020.2
What's behind the continued surge in spending, and what gives us reason to believe it can be sustained? Consider these factors.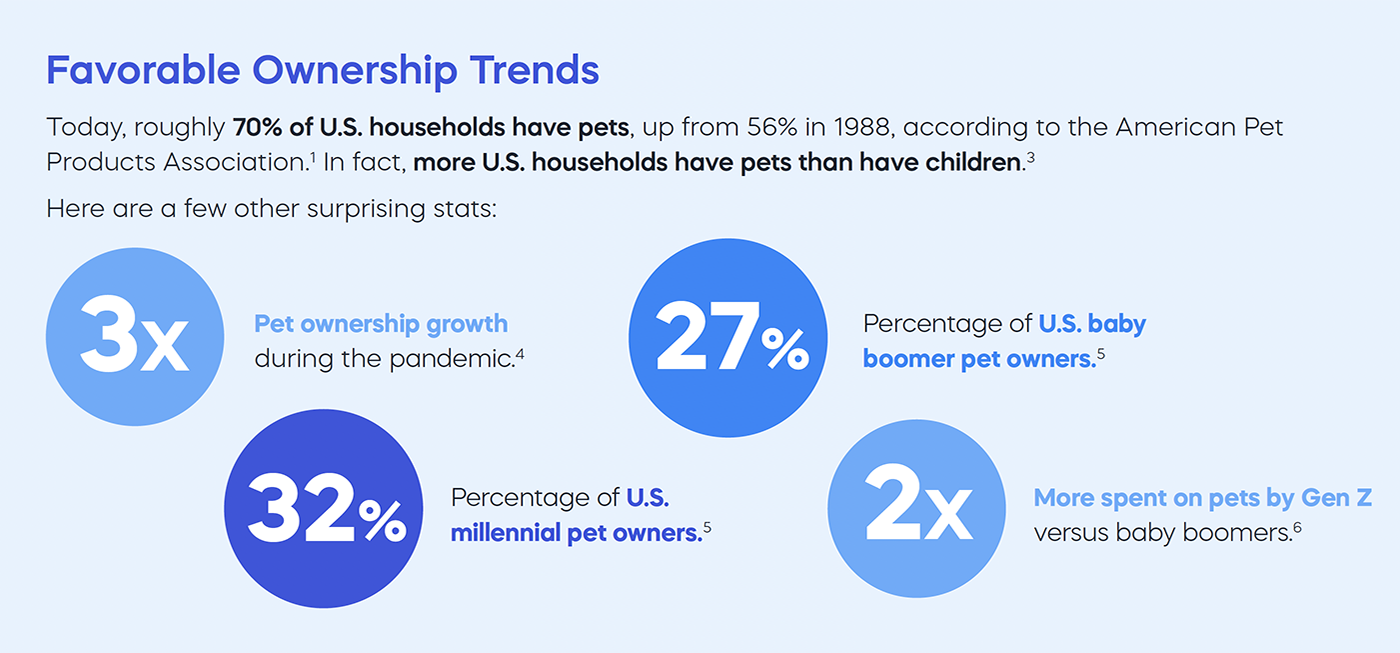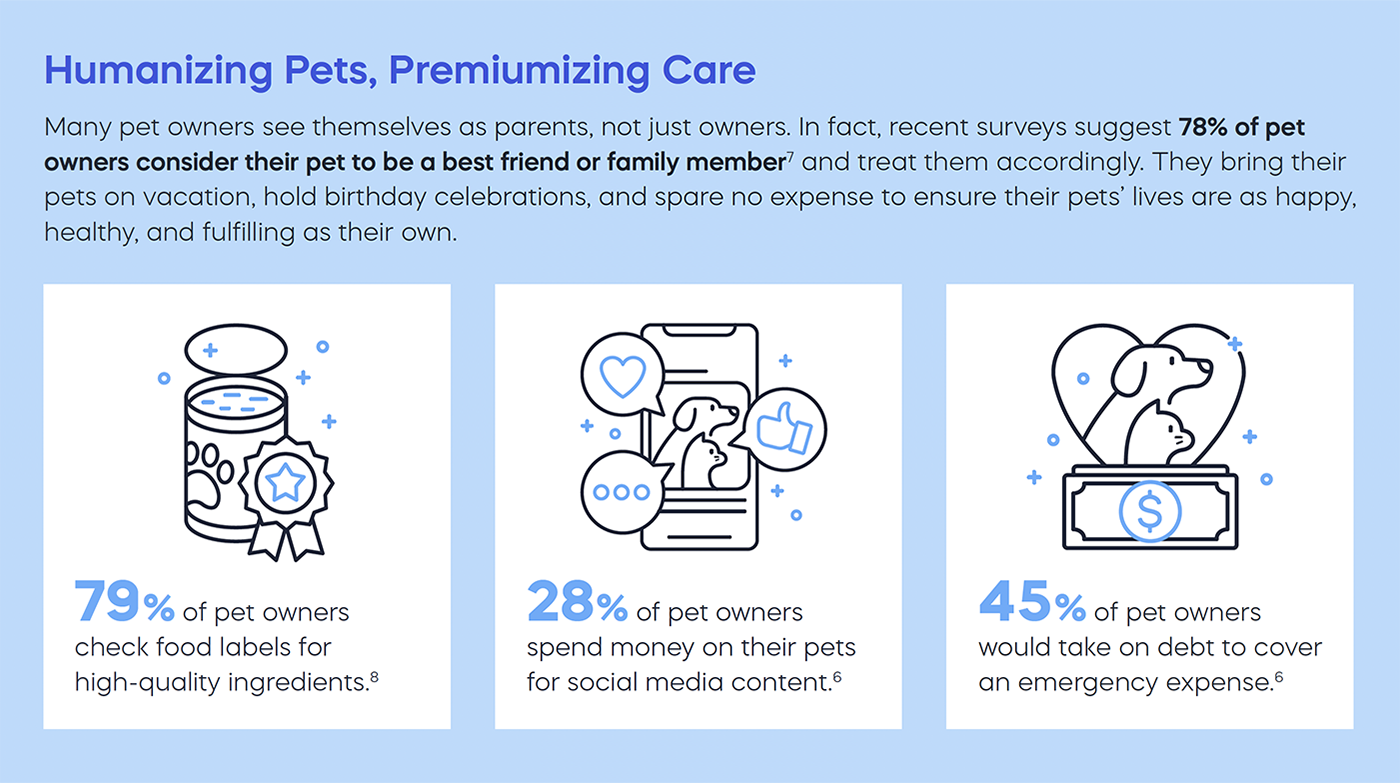 Pet Health Is Growing
Health care is generally one of the biggest expenses for pet owners, and spending in this category has the potential to continue growing. One big reason: today's pet owners are now providing their pets with access to health care comparable to their own.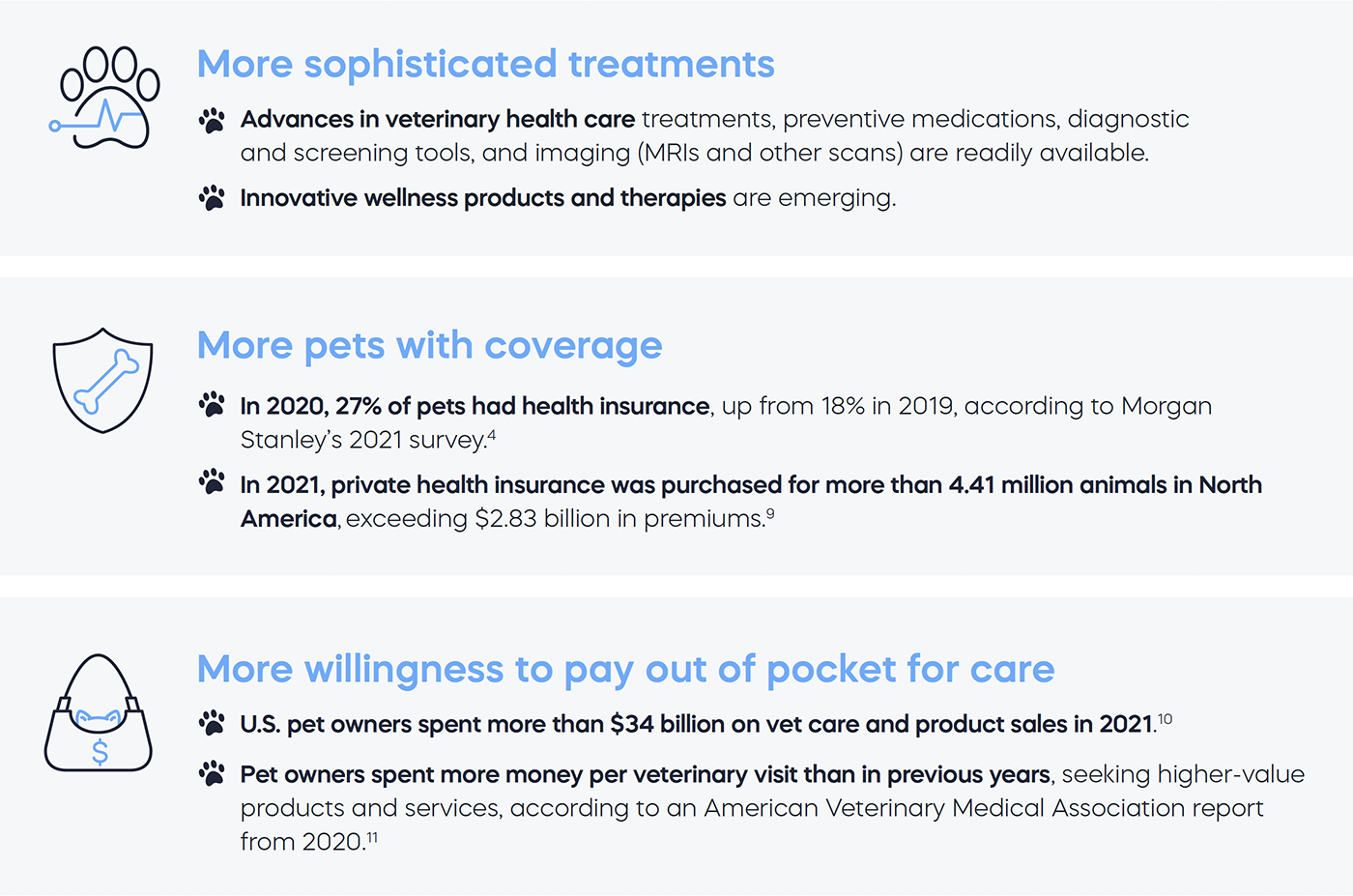 The First ETF to Capture the Pet Care Opportunity
ProShares Pet Care ETF (PAWZ) gives investors the opportunity to gain broad exposure to public companies in the global pet care industry—companies that stand to potentially benefit from the proliferation of pet ownership and the emerging trends affecting how we care for our pets.
1American Pet Products Association (APPA), "Pet Industry Market Size, Trends & Ownership Statistics," 2022; and APPA, "National Pet Industry Exceeds Over $100 Billion in Sales for First Time in Industry History," April 2021.
2Research and Global Markets Insights, "Pet Care Market Revenue to Cross USD 350 Bn by 2027: Global Market Insights, Inc.," February 2021; and Business Wire release for Research and Markets, "Global Pet Care Markets Report 2021: Market to Surpass $250 Billion by 2027—Pet Humanization Paves Way for Premiumization—ResearchAndMarkets.com," July 2021.
3U.S. Bureau of Labor Statistics, "Employment Characteristics of Families Summary—2021," April 2022.
4Morgan Stanley, "Welcome to the Petriarchy," March 2021.
5Pet Food Processing, "APPA releases generational report on pet ownership, purchasing trends," March 2022.
6Lending Tree, "28% of Pet Owners Make Purchases for Social Media Posts," September 2021.
7Fox News, "A third of pet owners prefer their animals to their children, survey finds," September 2019.
8Global Pets, "Global research study indicates consumer pet food and ingredient desires," February 2022.
9North American Pet Health Insurance Association (NAPHIA), "State of the Industry 2022," May 2022.
10APPA, "National Pet Industry Exceeds $123 Billion in Sales and Sets New Benchmark," April 2022.
11American Veterinary Medical Association, "Are we in a veterinary workforce crisis?" August 2021.
ABOUT The ETF
Ticker Symbol

PAWZ

Intraday Symbol

PAWZ.IV

Bloomberg Index Symbol

PETCARE

Investment Objective

ProShares Pet Care ETF seeks investment results, before fees and expenses, that track the performance of the FactSet Pet Care Index

Inception

11/05/2018
ABOUT THE INDEX
The index consists of U.S. and international companies that potentially stand to benefit from interest in, and resources spent on, pet ownership.
Download Prospectus


This links to a pdf file
This link opens a new window